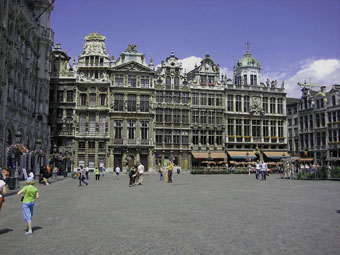 It is only fair that you take some time off after a busy season at work to re-energize and relax. This could be in the form of a much needed vacation where you get to spend your holidays away from home. This is could be at a tourist destination within your country or even away from your home country that would involve some travel. There are quite a number of cities around the globe that are known for their rich cultural and historical heritage hence are leading tourist destinations. One of these destinations is Brussels which is also the capital of Belgium. Generally Belgium is categorized among the leading tourist destinations in Europe that promises an out of this world experience as you get to explore the various attractions and engage in different relaxing and rewarding activities. Belgium boasts of dynamic cities like Antwerp as well as medieval architecture. Among the interesting places that tourists like to visit while in Belgium is the Royal Museum of Fine Arts that is endowed with a huge collection of painting dating back to the 14th century. Also notable is the famous Waterloo that saw the defeat of Napoleon by the then Duke of Wellington. This is one of the reasons that tourists come to explore Belgium.
Brussels offers diverse architecture that spans from the medieval age, with the main attraction being the Grand place, a UNESCO world heritage site and the Royal palace. Also notable is the Manneken Pis that is a bronze sculpture cum fountain of a urinating youth. Other notable attractions that prompt tourists to tour Belgium are the Flander battlefields and the Ypres War Memorials. This is mainly because of the link between the Ypres town and the First World War as it holds silent of those who died in the First World War. Besides, those who travel to Brussels get to experience the over three thousand castles. Three hundred of these castles are open to the public. However, it is the Gravensteen castle that is also referred to as Castle of the Counts which is most popular. Another place that you must not fail to visit is Town of Spa that offers relaxing fine waters and the Bruges commonly known as Venice of North because of the bridges and canals. For lovers of chocolate, Brussels offers the best of chocolate with an estimated over two thousand chocolate shops and a production of over 172,000 tons of the same. Children who travel to Brussels as part of their holidays need not to worry about getting bored as there are a number of carnivals and festivals every year. These include the Zinneke parade and the Ommegang festival among others. The other Belgium cities also hold the same for example the Carnival de Blinche that is held in Blinche and the Stavelot that is held in Mid-Lent Carnival.
Brussels is also a great shopping destination for those people who love shopping. The Flea market is famous for not only crockery but also vintage clothes, household items and furniture. Antique lovers can also be sure to find some of the best antiques in Europe in places like Place du Grand Sablon. If you are keen on fashion items you can also be sure to find shoes, accessories and clothes that are fashionable from a range of shops like the Brooklyn Antwerp or even the High and Mighty. Another great shop for shoppers is the Mier. In fact, people who like to go shopping often make Brussels and Belgium in general their tourist destination.
A tour of Brussels will be incomplete without an experience of the Belgium cuisine. In fact, Belgians believe that their food is prepared using French Finesse and served with the German generosity. The Belgian cuisine is famous for not only known for frites and mussels but also endive and waffles. Of important mention is the fact that the seafood and fish are as important as beer that is as popular as the Belgium brewing tradition. Also included in the Belgian cuisine are game birds, meat and potatoes. One of the famous types is the chicory or the Belgian endive. Street foods are also common for instance French fries that are usually served on paper cones alongside mayonnaise and curry sauce. It is believed that besides other attractions, the Belgian cuisine is among the reasons tourists flock into Belgium. There are numerous other places and attractions that cause tourists to travel to Brussels and the large Belgium. Because of the vast nature of the tourist attractions in Brussels, it is wise to research about the attractions and make up your mind on the places that you intend to visit before hand. This is not only good planning purposes but also helpful in managing the finances that you have set a side for your trip.