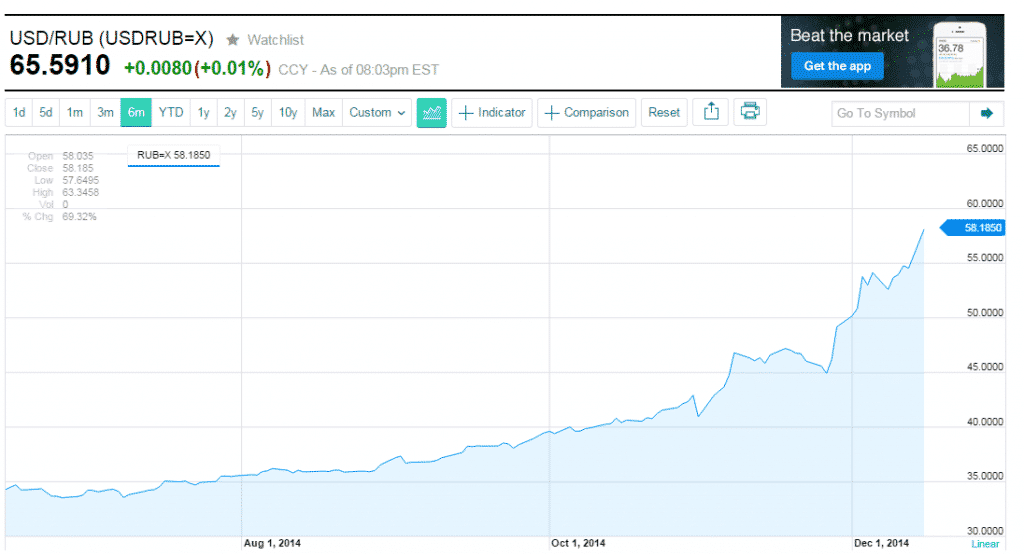 With the Annexation of The Crimea and with Russia taking an active role in the war in the Ukraine, world opinion of Putin's Russia has rarely been lower. This was highlighted when the West came together in March to enforce sanctions on Russia. Since then there have been another two rounds which seem to be having a quicker than expected constrictive affect on the Russian economy.
Today the Ruble dropped by 13% against the greenback and the day hasn't finished. It is in fact the lowest it has been in five years. Oil prices are dropping again and as the Russian economy is linked to energy prices this slump has magnified the power of the sanctions. The fear that Russia would shut off the gas supply to Europe this year hasn't seemed to eventuate and the speculation is that Russia can't afford to carry out the threat without a massively detrimental affect on it's own economy.
The other rumor is that a shady deal between Russia's state owned Rosneft and the central bank that was supposed to fool the smart money, didn't. The deal would allow Rosneft to refinance itself out of foreign bank debt and into Russian banks but this now looks like it has backfired.
With oil prices looking like they will be trending down and OPEC saying they expect low prices for a while as well as that they're not afraid of $40 a barrel oil. Russia could be in a spot of bother as the economy seems to be geared for approximately $80 a barrel. Russian's must be looking at Putin and wondering is he really worth all the bother? It looks like 2015 is going to be an interesting year on the world stage.