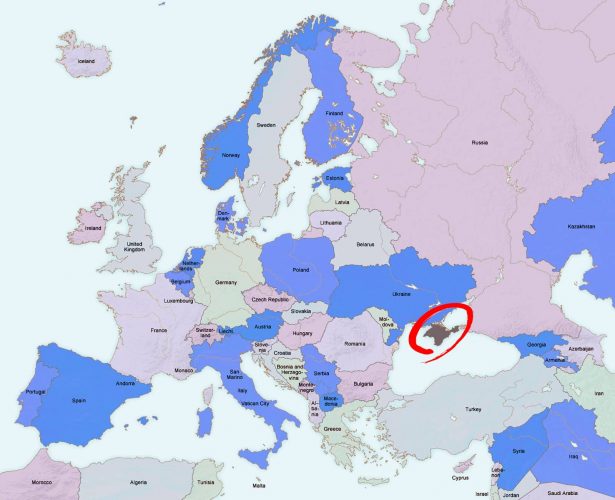 It is at about this time of year with the silly season fast approaching, that we take a look at how the borders of Europe have changed in 2016. We have had a pretty turbulent couple of years, with the war in the Ukraine and the refugee crisis. So we are going to put up a map of Europe 2016, as of the 13th of October 2016.
Europe hasn't changed dramatically since the Balkan war in the eighties and nineties when Yugoslavia was broken up into Croatia, Slovenia, Bosnia and Herzegovina, Montenegro, Macedonia and Serbia. The big and very controversial and it has to be said unpopular change is the annexation of the Crimea  by Russia. Shown on this map with a red squiggle around it. Although the Crimea has a majority of Russian speaking population it has always been considered to be a part of the Ukraine. In 2014 The Crimean people did have a referendum on leaving the Ukraine in 2014. The overwhelming vote was to leave, although there are rumblings that some of the voting was rigged. Russia fully integrated the Crimea into the Russian federation in 2015 and the status of the Crimea has be left in limbo.
So that is the map of Europe as it stands for 2016. Will it be the same in 2017. Maybe not. With Catalonia and the Basque country demanding independence we may see a redrawing of the European boundaries in 2017.