Political Map of Europe
We have a new Europe Map for 2020 and a World Map for 2020.
Above we have a massive map of Europe. The size of the map is 2500 pixels by 1761. To get the full view you need to click on the image and then click on the X in the top right corner. below are the Countries of Europe and the respective capital cities. Although we haven't specifically highlighted the countries of the European Union Follow this link to see a map of the EU. We have now added a wonderful Physical map of Europe.
It is now 2019 and not a lot has changed. This map is probably still the best overall map of Europe on this site. Although we have added a map of Europe for 2019. We are making this page a big database of maps of Europe. So we are combining all the old maps onto one page.
While we believe the above political map of Europe is probably the best we have ever published. Here at MapofEurope.com we feel we need to bring our readers as many version of similar maps as possible. The CIA website has a massive database of maps and we have edited the large map at the CIA and cut out another version of a political map of Europe.
Even though it looks like this is a newer political map of Europe it really isn't. It is just a portion of one of the oldest maps on the web.
Map of Europe 2018
We know we might be jumping the gun a little here by publishing what we think the 2018 map of Europe is going to look like but we are known for being impatient. However it is nearly 2018 already and the borders of Europe are not going to change a lot in that time.
The map of Europe above is huge so click on it and then hit the little icon in the top right hand corner to make it enlarge to full size. It has the names of all the European countries and shows the borders and capital cities. The map also shows many of the larger cities of the countries in question. Some notable non-capital cities are Geneva in Switzerland, Cologne in Germany, Bordeaux in France. Below we will list all the capital cities and the country they are the capital of.
A New Europe Map
This is the new 2018 Political Europe Map. Europe isn't changing much at the moment. Not like in the late 90's and early 2000's. The only change we can expect either this year or in the next few years is the United Kingdom leaving the EU. Russia seems to have curbed it's expansionist ways. Although there is still some trouble in the Ukraine.
While the physical boundaries of the countries in Europe are not likely to change in the near future. Obviously the physical Europe map itself will not change at all. We do try to provide at least 2 updated maps every year.
Other countries that might change the face of Europe in the near future are countries like Hungary and Poland. Both these countries have elected a parliament that is somewhat antagonistic to the European Union. While Turkey is on the border of Asia and Europe. It has been trying to join the European Union, however recent changes to the political climate are making it's inclusion look a bit shaky.
All in all we are in for an exciting although troubling time. We have added an interactive map of Europe for 2018. We now have a Europe Map for 2019.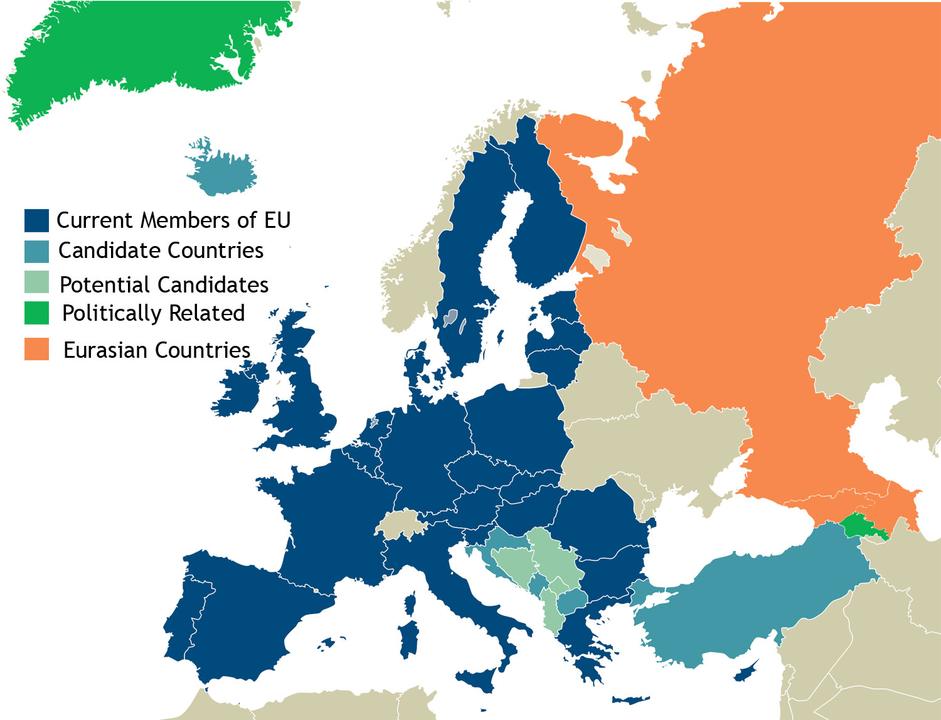 While not technically a political map of Europe in the strictest sense. This map tries to set a delineation between the European Union Countries and the rest of Europe. It also is an attempt to see how the other non European Union countries fit within the greater European region. Technically speaking go here, if you want to see a political map of Europe in the historical definition of the phrase. This area is mostly about conjecture and how Europe ties together as a continent. It will be updated regularly and this map may change and others will be added.
We will also be adding historically accurate political maps so as to show how politics progressed through you Europe over time. In researching this area we found some interesting and sometimes funny and sometimes serious events that caused unusual redrawing of the borders of various countries that make up Europe. Some countries were created and some were lost to time and the borders moved around quite a deal through out the 4000 years of European history. Politically speaking most countries started out as city states and then as one state or another became dominant, the others in the vicinity got swallowed up. One extreme example of this is the Roman empire which swallowed up huge tracts of Europe, Africa and the Middle East for that matter. It was all considered part of the Roman empire and eventually when the empire split up and slowly died certain geographical regions banded together to eventually form the countries of Europe. Some of these remain to this day and others have fallen by the way side. It will definitely be an interesting insight into how politics and culture work together at nation building. Stay tuned.
What countries are in Europe map?
There are a few definitions of Europe we can consider when answering this question. There is the EU (European Union) which is one definition of Europe but that is not encompassing enough for us. There are countries that Span both Europe and Asia like Russia which some want to put into Asia only. We do subscribe to this point of view either. Then there are countries like Georgia that aren't transcontinental with Europe but are very European in the make up of the population and culture but are not officially part of Europe. Here at mapofeurope.com feel that all these countries should be given a chance to participate in the great experiment known as Europe. Below we have a comprehensive table of the countries that are within Europe.
Map of Europe with Cities
Edit: Watch this space with what happens in Catalonia. The map of Europe may be rewritten before the end of 2017 yet.