We have already added a map of the world for 2019. Have a look for yourself.
Above we have a simple World Map with continents and Regions in different colors. Here at "Map of Europe" we realized that many users coming to our site wanted to look at a map of the world and the continents and regions.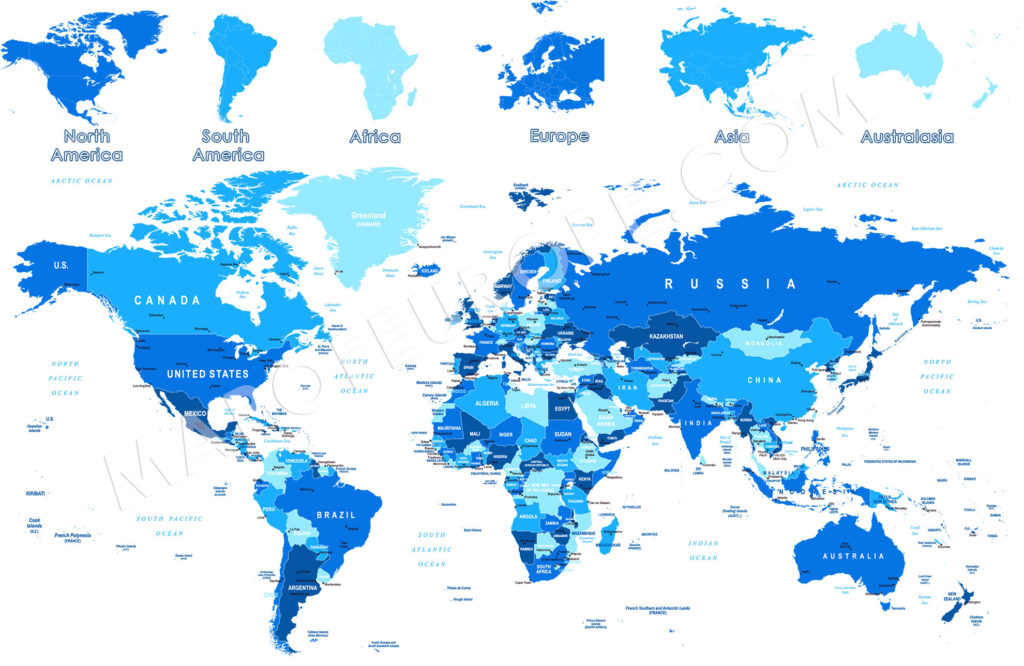 We have a world map below with countries outlined but we have been asked many times to breakout the continents in the map to make them more obvious. We have done this above and this image will become the foundation of our "World Map 2020". The year 2019 has not ended so the final layout for the chart above has not been finalized. The above image is an easy to use learning guide for schools and colleges. This page will become a repository for all future maps of the world from now on.
Continental borders are a little ambiguous and fluid at the moment and we tried to cater for this by adding some regions.
Below is a list continental border anomalies.
Western Russia is marked as being part of Asia even though generally it is considered part of Europe. We did this because we felt there was room on the web for a simpler version of a world map, one that ignored some of the border ambiguities.
We have added the Middle East as a region. This was due to many users emailing us and asking how does the middle east relate to the rest of the world.
Australasia is marked in aqua and this region is sometimes referred to as Oceania. This is not strictly accurate but like we said above these matters are somewhat ambiguous. Strictly speaking the content is generally referred to as just Australia.
Egypt is marked as Part of Africa above. While this is strictly correct it could have also fallen in under the region of the Middle East.
This map is not meant to be a definitive or even strictly accurate depiction of the world. As we said earlier that tends to be fluid anyway. This map is meant to be a quick reference guide for students and teachers to use when doing geography or cartography on the fly.
A world map is usually a map of the surface of the Earth, which is often made utilizing any one of a variety of map projections. Maps of the world in most cases are either 'physical' or 'political', but there are exceptions to this rule. The goal of the physical map is usually to demonstrate attributes of geography like mountains, soil variety or even land utilization.
The most crucial function of the political map is to demonstrate territorial borders and political boundaries. These are not always clear cut but most political maps of the world will try and give you a best match fora certain point in history. Geological maps demonstrate not just the physical surface area, but attributes of the underlying rock, fault lines, and sub surface structures.
When travelling the world and taking advantage of cheap flights, it is important to get travel insurance. It will give you that extra peace of mind, knowing that even if you luggage doesn't make it. You will not be left out in the cold. There are many types of travel insurance, so pick the right one for you. Some of the types that are most commonly used are Medical Travel insurance, Trip Protection, Luggage and Car Rental Protection and Delay coverage.
Click above – World Map for 2018.
It is basically a political world map although it does not use the traditional political map colors. Those colors are so 1995 anyway.
In this world map we include all the countries of the world and their related capital cities. It is a relatively large map at 2908 pixels by 1467 pixels. Also, it shows the relationship between the new Europe map and the other continents in the world. Another good reference for world maps is this page on Wikipedia.
Another thing that makes this map of the world stand out is that it includes all the little island archipelagos of the world. So if you are going to one of those remote holiday destinations like the Canary Islands. On this map you will be able to see where it relates to the rest of the world.
If you want to enlarge the map click on it and then click on the little "x" in the top right corner to get the biggest possible version of the map. You will have to scroll around it as it generally to large for most computer screens.
One of the new countries it lists is South Sudan, which is probably Africa's most recent country. other non European countries that are listed are New Zealand, Mexico, Thailand and North Korea.
Some European countries that are listed are France, Germany, Iceland, Croatia and Denmark.
Enjoy the free use of this map of the world and we hope to bring you guys more in the near future.
We kept the  Old World Map below: