Here is a blank map of Europe. Unlike most other blank Europe maps we have made the oceans blue to distinguish them from the actual continental mass.
The assignment here is to try and name all the countries. You can either do this in a program like MS paint or you can print the map out and then hand write all the country names in.
New Blank Map of Europe
We are adding to our repository of European maps. While the above blank Europe map served the website well over the years we have come to the realization that the map is looking a touch dated now.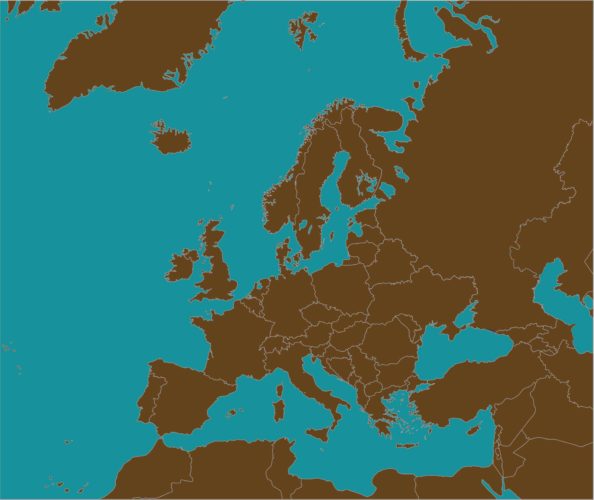 We will be adding many blank maps to this page and make it into one of the premier resources for blank maps on the internet.
What Other Maps Will be Added?
We will be adding other versions of blank maps of Europe. Also we will be adding a blank map of the world. This might be added here or a new page might be created to accommodate it.
Another consideration that will be taken into account is the possibility for blank maps of all the different countries of Europe. The format will be a blank outline of the country but also showing the territory's, states, counties and shires.
Some countries like the United Kingdom is made up of semi-autonomous regions like Northern Ireland, Scotland, Wales and England as well as shires and counties. Either a number of separate maps showing the different kinds of regions will be added or we will have one big map that can be drilled down into, to show the detail in greater depth.
Sizes are Important
Some feedback we have been getting from users has been that we are not providing enough different sizes. here at mapofeurope.com we have tried to offer large maps which have lots of detail. However with mobile becoming such a large influence on how users experience our website we have come to the realization that some smaller sized maps are required, both blank and detailed. Users still print our maps regularly so we are also working on maps of Europe that print easily into the different paper sizes particularly A3, A4 and Foolscap. Foolscap is still widely used in schools and other educational institutions so we have no plans to phase that paper size out.
Colors are Important
Blank European maps all have one thing in common and that is obviously that they are blank but some feedback we have received is that colors are important to our users. We will be offering a much wider variety of colors in our blank maps. Traditionally blank maps are comprised of varying shades of black, white and grey. These types of maps will be on offer here in the near future but we do feel that other colors and shades are needed. In the not to distant future we will be offering light pink and light blue blank maps of Europe. A new choose your own color map is also just over the horizon. users will be able to tailor the map colors to suit their needs.