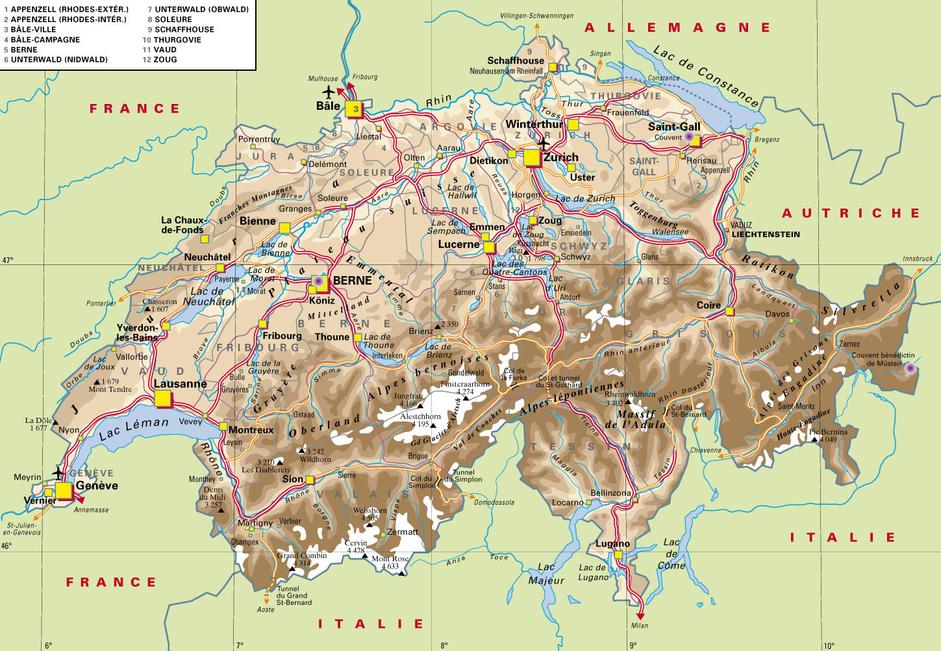 Switzerland is a true winter wonderland, just check a map of Switzerland if a skiing holiday is what you are after then there are few places in the world that offer better ski packages than Switzerland.
However summer holidays in Switzerland can be Just as fulfilling. The mild climate of the Swiss summer makes for a holiday to the glorious green Alpine foothills a truely rural escape. Thousands of holiday makers will take driving holidays around Switzerland, so renting a car and making for the Swiss border is an excellent option.
The railways around Switzerland are excellent and Eurorail passes are easily purchased from any train station. Infact a rail holiday around Switzerland is argueably one of Europes great holidays. Three train rides you must try are :
The Mount Pilatus railway the steepest railway from Lucerne to the top.
The Glacier ExpressSt. Moritz to Zermatt, which is a 8 hours travel in the Swiss Alps.
The Jungfraujoch railway Interlaken (560 meters) to the Jungfraujoch station (3450 meters) in few hours. And many more.
Flights around and to Europe are cheap these days. So booking a flight to Geneva, Berne or even Zurich is as easy going to your favourite online travel agent and making a few clicks. For a good choice of hotels with discount prices, visit Hotel Reservation in Bern for more information.
Here are some facts about Switzerland
Official name is the Swiss Confederation. It is situated in central Europe. Bordered by the countries : Germany, France and Italy. It is a landlocked country so has no Seas or Oceans bordering it The land mass is 41,285 km/squared and a population of approximately 7.8 million people. The capital city is Bern and the political system is a Federal republic, with parliamentary system and direct democracy. The official languages are German, French, Italian and Romansh.