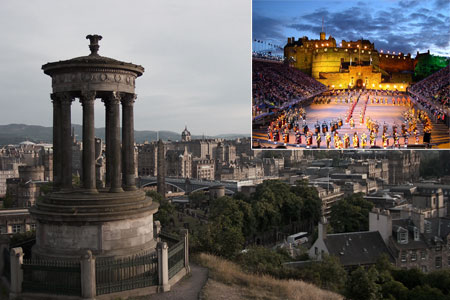 Scotland is widely considered to be a land of great history and culture- a land of gentle, rolling hills and ancient, imposing castles. The country is also an oft-visited tourist destination, with up to 5% of the nation's GDP coming from the tourist industry. This popularity indicates that Scotland is an excellent place to travel to – and there is no better place in Scotland to visit than the city of Edinburgh (the second most popular city for travel in the United Kingdom!). Edinburgh is the capital city of Scotland and also the second largest, with more than 450,000 people living there today (second only to another well-kown city, Glasgow). The city and its surrounding areas hold many attractions for travellers of every sort- whether your interests are cultural, historical, or geographic (or if you just want to experience the night-life), Edinburgh's rich history and interesting local culture will most certainly have something to offer you.
Like many cities, Edinburgh is divided into neighborhoods that all have their own unique flair and personality. For those interested in the history of the city, the first place to visit is unquestionably Edinburgh's appropriately named Old Town. Old Town is the oldest section of the city, and houses many fantastic examples of medieval architecture and style. One of the most prominent attractions of Old Town is Edinburgh Castle, this well-preserved fort has been around for at least a thousand years, and continues to attract visitors today. It is home of the Scottish Crown Jewels, and occasionally plays host to various performances and concerts. Another landmark is the Scottish Parliament, where one can observe the Scottish Parliament in session from public areas. The Edinburgh Dungeon provides rides and tours that showcase one of the creepier locations in the city- but if you're looking for something a little more aboveground, the view from the North Bridge is unparalleled. A traveler searching for souvenirs is sure to enjoy the variety of shops along the Royal Mile, but those looking for something more offbeat might want to try out the offerings from Victoria Street as well.
Old Town, however, is certainly not the only interesting neighborhood in Edinburgh. In 1766, New Town was designed in order to deal with Old Town's rapidly expanding population, and is generally considered to be exceptionally well laid out even today. New Town is home to some of the best shopping experiences available in the city, from the St. James Centre and Princes Mall to the store fronts along St. Andrew's Square. Jenners Department Store, the oldest department store in Scotland, is also an excellent experience and not to be missed. For those here to experience the night-life, George's Street has recently developed a significant amount of bars and clubs, and its proximity to similar developments along Queen Street make it an excellent destination for those searching for a party. These very new developments make New Town a sort of modern "heart" of the city, where those of the younger generations are more likely to be found having a grand old time.
One of the best known attractions of Edinburgh is the Edinburgh Festival. The Edinburgh Festival is comprised of a whole host of events, often officially put on by different organizers but commonly regarded as falling under the same festival. This loose amalgamation of events has made the Edinburgh Festival the single largest yearly festival on Earth, and draws in huge amounts of people every year. The two main parts that make up the Edinburgh Festival are the Edinburgh International Festival and the Edinburgh Festival Fringe, each with its own history, personality and style. The International Festival is widely regarded as the greatest compendium of classical arts in existence, and attracts the very best in this type of music and dance. The Fringe, on the other hand, provides a more "alternative" and potentially more varied experience, with much more of a focus on theatrical and comedic performance. This is a reflection of its origins as an unofficial gathering outside of the Edinburgh International Festival, where artists who were not invited or could not afford to perform would set up shop and show off a little.
It would be impossible to chronicle the many dazzling attractions of Edinburgh in one article. Here we have simply touched on the largest cornerstones – however, the city is home to hundreds, maybe thousands of other attractions, festivals and shops, just waiting to be explored by those looking for a new and truly memorable experience. The United Kingdom as a whole, and even Scotland alone, are home to a great concentration of adventurous, interesting and exciting places. Among these memories waiting to be made, Edinburgh stands above the rest of the pack as the foremost place to go for anyone searching for a trip – whether alone, with a group of friends, or taking a family for an interesting and educational trip. With its deep cultural history and exciting culture, the city of Edinburgh should be at the very top of any list of interesting destinations. For thousands of years it has beckoned to travelers, and many today still heed its call to come and experience the crowning city of Scotland.