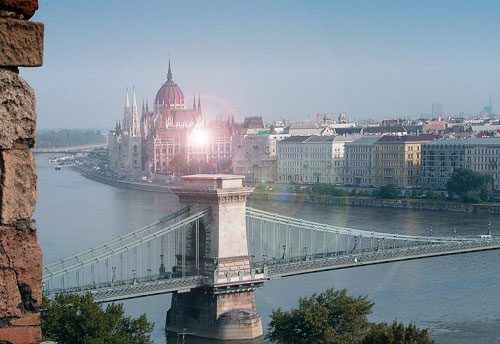 Are you ready for the delightfully interesting and culturally rich destination of Budapest Hungary? With nearly 2 million people calling this dynamic city home, it is situated right in central Hungary. Any good map of Budapest will clearly show that the famous Danube River divides the city, between Pest on one side and Buda on the other. Pest tends to be more flat, while Buda is more indicative of hills. The weather in Budapest is fairly mild with occasionally snowy conditions. The summers can get quite hot with even certain occasions where temperatures have broken the one hundred degree mark between June and August. However, the normal summer temperature is typically around the upper 70's in Fahrenheit. Typical winter temperatures hover right around the mid 30's. All and all the climate is very accommodating for travels and visitors to this uniquely interesting city. Keep you map of Budapest handy as you make your way around the city, as you will discover many hidden and interesting features of this city by the river.
There are a number of airlines that offer daily flights in and out of Budapest, so be sure to check with your local airline listings. The flights into Budapest will typically land at Budapest Liszt Ferenc International Airport. The airport is centrally situated east of centre in the XVII district within Pestszentlorinc. If you are expecting to have a car rental while in Budapest, thee are also a number of well known car rental companies to choose from. If a car rental is not in your plans, then no worry, because Budapest has a well designed public transportation system. Services offered by the Budapest Company BKV will get you where you need to go. With trams, busses and trolley busses, as well as boat and rail – there is always a way to get around while in Budapest. The tram service is a popular option among those familiar with the city. The daily service runs normally between 4:30 a.m. to 11:30 p.m. every day of the week. Rail service is another excellent way to move around the city with ease. There are several services operated through the company MAV. Consult listings for locations and timetables.
Considered easily one of the most attractive and inspiring cites in all of Europe, some of the more notable points of interest while in Budapest include the Museum of Fine Arts, as well as the Kunsthalle Budapest. All who journey to Budapest must take in the sights of Vajdahunyad Castle, as well as the Hungarian State Opera House. Additional points of interest in the city include such places as the National Szechenyi Library, and the Aquincum Museum. This particular museum houses actual Roman artifacts and remains. If old world churches are of interest to you, consider seeing the Matthias Church, a truly charming structure. The stunning Hungarian Parliament Building houses many interesting artifacts of Hungarian history, including the very notable Crown Jewels of Hungary. Take a rare look at a very large medicinal spa bath, the Szechenyi Medicinal Bath is centrally located in the city. With a rich Jewish history, the city offers the Dohany Street Synagogue – one of the biggest synagogues in the world. Budapest is one of those rare places where you will never grow tired of touring the many interesting places, sights and sounds.
The city of Budapest has a long list of esteemed Universities and Educational Institutions. Included among this list are schools such as Central European University, Budapest University of Technology and Economics, Liszt Ferenc Academy of Music, Pazmany Peter Catholic University, and Moholy-Nagy University of Art and Design – to name but a few. This city is brimming with culture, boasting well over 200 art galleries and museums. With more than 40 theaters, as well as half a dozen concert halls and even an opera house, this is a place for the genuine appreciator of art and culture in general. Yet, another art museum that should be on any tourist's list would be the Museum of Applied Arts, an excellent way to spend an afternoon in Budapest. If all of this were not enough in the quest to discover Budapest culture and history, there is also close to 900 various monuments on display through out the city. Budapest will have you awe inspired from the day you land at the airport, and the memories will last a lifetime. Be sure to plan a visit to this rare treasure of a city, and give yourself plenty of time to see as much as possible.
Finally, no discussion of Budapest would be quite complete without mentioning the trademark thermal springs, baths and spas located throughout the city. These spas have a history tracing back to Roman and Turkish periods, The spas are intended for medicinal as well as simply bathing. Going back almost 100 years the city earned the name The City Of Spas. Some of the more notable baths and spas include The Szechenyi Baths, considered among the biggest European bath complexes. This enclosed bath as well as additional outdoor pools dates back nearly 100 years and has a strong Turkish and Greek theme. The Rudas Baths are yet another example of Turkish period baths. While the Gellert Baths that are part of a hotel, are also Turkish in theme and period. Also worth the time to visit is Lukacs Baths. It all comes back to one thought when considering a visit to Budapest, and that is – how does one see it all? Whether you chose the best discount flights to bring you to Budapest, or choose a car rental – one thing is you must do is get out your map of Budapest and start exploring this enchanted city.