The splendid sights and sounds of Sicily are perhaps unlike anywhere else in the world. Situated off the lower tip of Italy, Sicily is a world unto itself. With mild Mediterranean weather and a pleasant year round climate this is one part of Italy worth visiting. Sicily is rather hilly and is part of a series of active volcano ranges. Perhaps the most well known of the Sicilian volcano's is Mt. Etna, an active and quite moody volcano.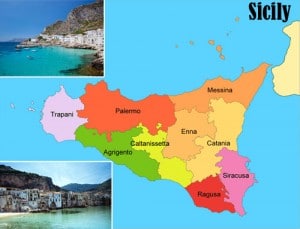 Sicily is home to one of the biggest preserved natural ecosystems, the Nebrodi Mountains Regional Park. Within the park perimeter is the most expansive forest on the island, known as Caronia. This is an island rich and diverse with beautiful landscape, excellent food and wonderfully delightful local peoples. It only takes one trip to Sicily and the rest of Italy to be absolutely convinced that this is a little bit of heaven on earth. Let's look at some of the wonders of Sicily.
Sicily is rich with agricultural rewards. The island with its highly fertile and rich soil is able to produce some amazingly delicious and nutritious vegetables and fruits. The quality of the soil can be directly attributed to its volcanic makeup, resulting from many successive eruptions of Mt. Etna, primarily. The extended hot humid growing season is another contributing factor to the exceptional produce the island is famous for. The chief crops on Sicily are grapes, olives, and citrus fruits. Almonds are yet another abundant product in this Italian wonderland. Some of the finest olive oils in the world originate from right in the heart of Sicily. Let's not forget the wine, ah the wine. Italy is known for wine and this little island just off the coast of the mainland is no less an excellent wine producer. One of its hallmark wines is of course Marsala. This tasty wine originates from the heart of Sicily and is highly regarded as an excellent gourmet cooking wine.
Culturally, Sicily is perhaps second to few other places in the world. With an extensive history in art and sciences, this is a place for the serious art buff. One example of the wide diversity of art and culture on the island of Sicily is the Teatro Massimo. The Teatro Massimo located in Palermo is the biggest house of Opera in all of Italy and perhaps within the top few in Europe in terms of size. The mainland of Italy has a generous share of famous artists, but Sicily is equally blessed in this regard. One example in the area of painting is Antonello Da Messina, a highly respected Sicilian artist. There are also several notable Sicilian composers that have made a mark on music. A few of note are Salvatore Sciarrino, Vincenzo Bellini, and Giovanni Pacini. Italy in general is well known for famous artists, and Sicily shares equally in many of the artistic accomplishments of this great culture. The only way to truly know Sicily is to visit Sicily.
Perhaps more than any other subject, the subject of food, and really good food at that, comes up when talking about amazing Sicily. The majority of the local dishes found in this island paradise are derived form the local produce. Regardless of if we are talking about the fantastic wines, or the delicious fresh fruit and vegetables, one thing is certain, it is usually all fresh and local. Be it tomatoes, beans, fresh olives, or a host of other fresh fare, the food that is prepared is always out of this world. Add to that the wide selection of fresh local seafood and you have the recipe for some of the best tasting foods you can imagine. And let's not forget desert. Ah desert, the deserts of Sicily are in a class all their own. The trademark desert of Sicily is of course the Cannoli, a fried shell with rich heavy ricotta cheese filling. Sometimes containing chocolate chips or nuts, this is a premier Sicilian desert dish. Try a Connoli one time and you will be sure to come back for more.
Getting around the island is easy with a multitude of transportation options. The primary airport is the Catania-fontanarossa Airport. This is a very busy airport situated along the eastern portion of the island. Train and water transportation is also well represented on the island and easy access. What is most amazing about beautiful Sicily is the people. The people of Sicily are genuine, warm and giving. They want to share with you, talk with you and become your friend. Everyone you meet it seems has a smile and a laugh to offer. It could perhaps be said that in Sicily, a stranger is but a friend you have not met yet. This is a fitting saying and holds true. Whether it is the food or the cultural mastery, or the genuinely warm people of Sicily, one thing you can be certain of is that you will love Sicily – and Italy in general. Visit the island world of Sicily and see what you have been missing. You may even learn a little bit of Italian. After all, being in Italy and not speaking Italian is like going to the beach and not swimming.