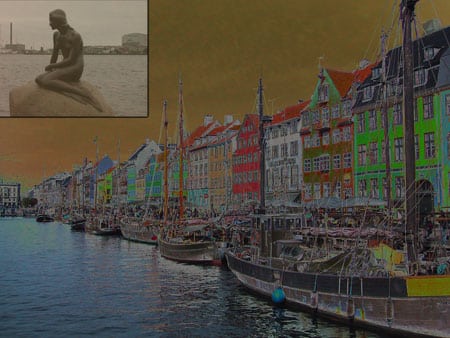 Research conducted by the Organization for Economic Cooperation and Development has discovered that Denmark contains some of the happiest people on earth. Why, you ask? Plan a trip to the largest city in Denmark and find out! Copenhagen, which is also the capital of Denmark, has been described by tourists as laid back, contemporary and pleasantly enticing. This enchanting city offers tourists a large variety of activities, including tourist friendly bars, restaurants, an abundant array of sightseeing options and a rich history to explore – one museum at a time.
Many who research Copenhagen already know about the famous statue of The Little Mermaid, which is based on a story written by an acclaimed local fairy tale writer and poet, Hans Christian Andersen. The statue is relatively small in size and is located on the harbour in the capital. Sculpted by Edvard Eriksen, this icon was first erected in 1913. This praised landmark stands at a little over four feet tall and weighs 386 lbs.
A canal tour is a tourist favourite at Copenhagen's Nyhavn district, with companies such as DFDS Canal Tours offering daily tours of the harbour and various canals. Private tours are available at a higher price as well. Visitors enjoy the casual yet mesmerizing atmosphere as they soak in the charming views the city has to offer. Jazz cruises, wine-and-dine cruises, operetta boats and grand tours are just some of the various genres of tours available to foreigners looking for a unique experience on the waters in the Copenhagen district.
Frederick's Church, also known as The Marble Church, is a 1740 must see. Originally designed by the Danish architect Nicolai Eigtved, its dome is supported by 12 columns. Reopened during 1894 after political turmoil, it's current design is the work of Ferdinand Meldahi.  Inscribed above the colossal columns is the sentence, "the word of the Lord endureth forever."
If you are looking for unconventionally-styled architecture, look no further than the Palads Cinemas, where you can marvel at the odd but whimsical colors of the building before choosing a movie or live event from the large selection of entertainment this cinema provides. Containing seventeen different halls, this popular selection among tourists is able to show 3D movies and holds a number of various ballet and sporting events. They even have genres catering to small children and other younger age groups. If you are looking for fun for the whole family, you will find it at Palads Cinemas.
For a bustling and lively shopping experience, head on over to the shopping centre at Stroget. This Copenhagen shopping street includes five streets of various tourist shops, clothing stores and other small shops. While strolling down these vivacious streets, music will fill your ears from the sounds of street musicians who regularly play at this shopping centre.
If most of your trip in Copenhagen is by foot, you will have a more pleasant experience with a detailed map of Copenhagen that lists the various museums, shops, and tourist attractions. It is a city where there is something for everyone if you know where to look.