Amsterdam the northern European Cosmopolitan metropolis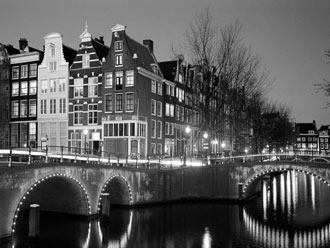 Amsterdam is known not just the capital of Netherlands but also the largest city. This city is endowed with about a hundred kilometres of canals, one thousand five hundred bridges and ninety islands that earned it the name Venice of the North. Amsterdam which is in the North Holland province is thus an excellent tourist and holidays destination especially for those people who would like to experience ancient history. In fact, it is among the most popular destinations for tourists in the larger Europe as it receives a huge number of visitors, estimated at 4.6 million, drawn from different parts of the world every year. There are numerous attractions that Amsterdam has to offer ranging from the historic canals to museums and the coffee shops. Also notable is the Amsterdam Stock Exchange which is the world's oldest.
Some interesting information that visitors who tour Amsterdam appreciate is that the canals did not just happen but they were consciously planned for in the course of planning for the city at a time when the rate of immigration was too high. The planning mainly based on the canals concentric four half circles whose ends emerged at IJ bay. Three of these canals were mainly directed towards residential development. Ultimately though the canals were dedicated to ensuring defence, transport as well as water management. The canals offer scenic views into the beauty of Amsterdam thereby encouraging visitors to explore the city. The canals have since been included in the UNESCO world heritage list.
The other attractions that visitors and tourists get to experience while in Amsterdam include the numerous museums that are home to years of history. In fact, a visit to the museums is considered to be one of the best ways of reliving the history of Netherlands. One of the important museums that tourists must not fail to explore is Rijksmuseum that having been created towards the end of the 19th century. This museum which is also Netherland's national museum is mainly dedicated crafts, arts as well as history. This is evident in the large collection of Dutch Golden Age paintings as well as the considerable Asian art collection. Originally founded in The Hague in 1800 with the aim of exhibiting Dutch Stadtholders collection, the museum was later to move to Amsterdam under the orders of king Louis Bonaparte. Visitors who travel to Amsterdam may also tour the other museums that include the Stedelijk museum whose specialty is modern art, Van Gogh museum that holds a lot of Vincent Van Gogh's works and Rembrandt house museum among numerous others museums.
Besides museums, Amsterdam also offers a perfect environment for holidays as it houses De Wallen, an area that is set aside of prostitution that is legalized in its red light district. In fact, the red light district has become popular among tourists and has a well knit alleys and roads network that are rented out. Other attractions in Amsterdam include parks that are very common among people who not only want to experience Amsterdam but also want to enjoy a great family moment at picnics. The parks offer a serene environment that is characterized by water fountains, open fresh air as well as the sun. Additionally, depending on the time of the year that you will travel to Amsterdam, you may engage in festivals like the Qeens' or Koninginnedag day that have music concerts organized, opera, children's games among other activities.
In order to ensure that your experience in Amsterdam is worth remembering, you will need to be aware of the best time of the year to travel. For instance in order to have the best of the canals, you will need to be in Amsterdam in the months between April and October during maritime climate. However, the high season runs from April all the way to December while October and November and also January to March are low seasons for tourists. Accommodation is not a matter of concern as there are numerous hotels of different calibres which you can check in. there are also hostels as well as camping sites. Amsterdam is also a great city for shopping as it is dotted with numerous department stores as well as specialty shops. The Cornelis and Pieter Cornelisz Hooftstraat are streets that are usually busy with shoppers. Amsterdam is also home to fashion brands such as G-star, Blue Blood, Gsus as well as Iris van Herpen among others. In fact, it also houses a garment centre at the World Fashion Centre with most of the buildings that were previously used as brothels within the red light district being turned into ateliers for upcoming fashion designers. In conclusion, a trip to Amsterdam for holidays or even as a tourist promises a lot of fun and insight into the history of the city.