Paris – the romantic jewel of Europe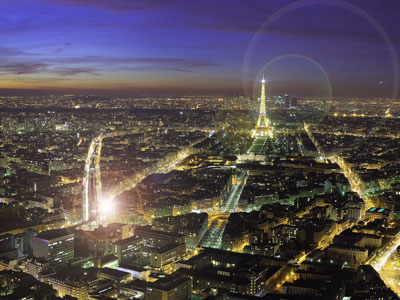 A visit to France will be incomplete without alluring the captivating beauty of Paris, also regarded as the city of light. This city offers an amazing experience of the French culture as well as the rich history of France. Paris which is known as to be the most romantic city in the world boasts of a combination of both the old charm of the world with contemporary culture making it an enchanting and intriguing destination for vacations. While in this city visitors get to explore the more than two hundred museums and galleries, hidden treasures, famous attractions, romantic restaurants and chic café all of which offer something for everyone.
Paris is not just the capital of France but also one of the most popular tourist destinations in the world having been ranked third after New York City and Orlando. The city is estimated to receive close to 42 million visitors. It is also ranked first with regards to international tourist arrivals with the number estimated at 17 million visitors. The city as well as its region is known for a number of historical monuments that are key tourist attractions with four of these having been listed among the UNESCO world heritage sites. This is enough evidence that Paris is a great city to tour not just as a tourist but also for holidays for an experience that is unforgettable.  Some of the popular attractions in Paris include Basilique du Sacre Coeur, the Lourve, Notre Dame de Paris, the Eiffel Tower, Arc de Triompe and Champs-Elysees and Musee d'Orsay.
The other famous attraction in Paris is the Notre Dame de Paris that means Our Lady of Paris. The cathedral is synonymous with French Gothic architecture that is, stained glass windows that are beautiful as well as dramatic spires and towers. Moreover, it has regained ill repute for being home to Disney's Hunchback. What captivates visitors most is the intricate art, a magnificent panoramic view of Paris as well stone gargoyles. The Notre Dame Cathedral is said to have been completed over a period of close to two hundred years.
Another attraction  that you cannot miss to see include the Louver, that guarantees you travel through ages as you get to explore antiquities and art work that dates back to centuries ago by walking into one of the few museums in the world that is not only the largest and oldest but also fascinating. This museum which was at one time a royal palace is a historical landmark that houses a number of not just amazing but also acclaimed proof of brilliance in art like Mona Lisa by Da Vinci, Dying slave by Michelangelo as well as Venus de Milo, a famed Greek sculpture. The Louvre also presents an opportunity to tour Mesopotamia in ancient Egypt and the middle ages and also experience the awakening of Italian Renaissance expressed through art. Other attractions worth exploring at the Louvre include the Ottoman period as well as various styles that are representative of the French Revolution. The Louvre presents an opportunity to listen to history speak strength, perseverance and love as seen through ages.
The other place in Paris that is worth visiting is the Champs-Elysees and Arc de Triomphe. This is especially ideal for people who consider relaxed holidays as they can stroll through these undoubtedly beautiful and glamorous avenues. Movie lovers may also consider enjoying popping in at the cinema or the specialty shops and end up at the café for rich delicacies. Visitors are usually advised to take time in order to make the most of what Champs-Elysees offers before ending the tour with Arc de Triomphe an architectural piece crowning crossroads totaling twelve avenues that was initiated by renowned Napoleon Bonaparte being a tribute to not only military prowess but also achievements. This monument has the names of the commanding generals of Napoleon besides housing Tomb of Unknown Soldier that is a 1920 addition. While atop this Arc, visitors are treated to breathtaking sights as well as the opportunity to discover other attractions that are also popular.
Also worth mentioning is the Sacre-Coeur, a grandiose basilica from the 19th century that is magnificently located at the highest point of the city of Paris. This basilica which is located within the Montmartre district adopted the Roman-Byzantyne technique and is regarded as the centre of art. Your holidays in Paris will be incomplete without travel to the magnificent Eiffel tower that is in fact France's global icon. The Eiffel tower also the tallest structure in Paris standing at just over one thousand meters and is visited most offering millions of visitors that opportunity to go up each year. Even then, in order to make your visit to Paris exciting, you need to find out more about Paris prior to your visit. The internet is a great resource and you can be sure to find all the information you need in order to prepare adequately for your trip.