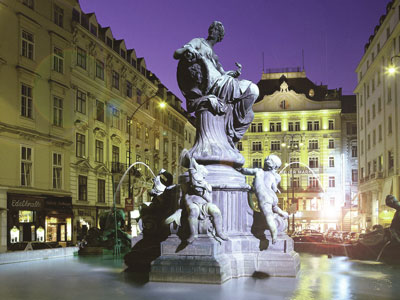 There are a number of tourist destinations around the world some of which can only be explored by people who have a made it a habit to tour different countries for holidays. One of the amazing tourist destinations is Vienna, the capital city of Austria. This is mainly because of the numerous attractions and places that offer an amazing experience to visitors of all ages and descent. The first irresistible place in Vienna is the Café central that is an esteemed coffee house. Café central is in fact famous among authors and other intellectuals like Theodor Herzl, Peter Altenberg, Hugo Von Hofmannsthal, Egon Friedell, Adolf Loos, Vladimir Lenin and Leon Trotsky who would hold meetings here and discuss subjects such as philosophy, politics and economics among others. The café's long history, famous patrons and the beautiful atmosphere have made Café Central a place that every tourist must consider visiting and is thus recommended by the stakeholders in the tourism industry. This is despite the fact that the original Café Central was located in a different section of the building known as Palais Ferstel that was closed at the end of the Second World War.  The café thus has a number of informative signs bearing the images of the celebrities of the old even though they did not sit at any of the tables in reality. Even then, the café has embraced impressive architecture and the drinks and food served hear is mouth watering. You can also get to experience Viennesse Coffee that guarantees you fresh authentic coffee.
The second place that most tourists explore while in Vienna is the Viennese cuisine. The traditional wine tavern also known as Heurige makes the experience worth while. Even then, it is Grinzing which is a combination of Heurige within the vineyards that overlook Vienna that are the main Viennese attraction. In fact, the experience is more rewarding compared to what you get after jostling among Japanese tourists. There are quite a number of Heurige within Austria's Wine Quarter, Hagenbrunn and even Stammersdorf as well as the town of Perchtoldsdorf. All these locations are within reach by tourists. Another treat for the visitors who travel to Vienna are the Lipizzaner horse shows, an initiative of the Spanish riding school that was instituted in 1572. The school is considered to be one of the most prestigious as well as oldest the world over. Also notable is the Baroque architecture that is strategically nestledin the Hofburg palace that attracts visitors. This is in addition to the Lipizzan horses. However, you will not view these artistry and the horses for free as a fee of about one hundred and seventy three Euros is charged for each performance. Should you be interested in an up close and personal experience with the horses you will need to pay and additional twelve Euros while those desiring to explore the stables for a guided tour will need a combo ticket.
The other place that every tourist needs to consider visiting in Vienna is the famous Sacher hotel. This hotel is known for a world famous dessert that comprises dual sheets of chocolate cake that is separated by another sheet of apricot jam at the centre and is covered in a chocolate glaze that is dark. It is thus Hotel Sacher that has the right to the Sachertorte hence it is abit costly. Even then, there are a few other hotels that sell Sachertorte that is equally mouth watering. Vienna is also known for its numerous souvenir shops besides the sights and sounds. One of the best ways of remembering your holidays experience in Vienna is by purchasing a keepsake that would depend on your experiences. The good news is that there are numerous souvenir shops that offer a wide range of items that accommodate everyone. It is important to ensure that the souvenir items that you select are not cheaply made Chinese products but real Austrian antiques. You could also these memorabilia outside Vienna.
Ultimately, it is true that if you travel to Vienna for holidays and are not the disciplined type when it comes to finances, chances are that you will spend a lot of money on items you will later realize that you do not need. It is therefore advisable that you prepare for your visit to Vienna adequately by preparing a detailed itinerary of your trip. You may also need to find out about the various interesting places in Vienna to enable you to budget adequately. Most importantly, ensure that you take not of any activities that will require you to pay a designated fee so that you do not limit yourself on the activities that you can engage in as well as the places you can visit. You could also look at working with a tour company that will ensure you make the most out of your trip.