Travelling to Berne, Switzerland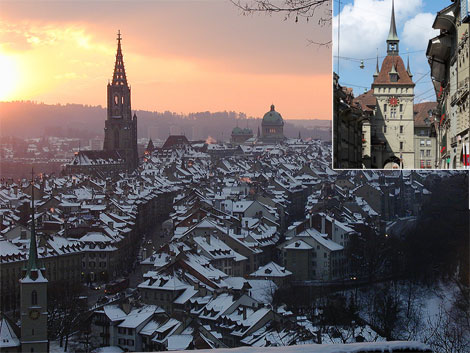 What a rare treat to be able to experience the beauty that is Berne, Switzerland. Get your map of Berne out and get ready for the adventure of a lifetime. Considered one of the best cities in terms of quality of life, Berne is number 4 in terms of population density as compared with other cites in Switzerland. Typically, a dialect known as Bernese German is the spoken language in the area. Most people in the city speak German, with Italian as a second language. In some cases, you will hear someone speak French. Situated to the west of centre Switzerland, Berne rests a section of the Swiss plateau. To the south are the majestic Bernese Alps. With pleasant weather year round Berne is a delightful city. The summers are mild with temperatures rarely getting above 75 degrees. Winters are also mild with temperatures normally not going below about 30 degrees. This is a true jewel of Europe and beckons visitors from all over the world.
When you travel to Berne, Switzerland expect to be surrounded by culture, with a multitude of festivals, as well as many cinemas and theatres. Some examples of local festivals include the Buskers Festival, and the Gurten festival. For music lovers there is also the Internationales Jazz Festival Bern. Theatres abound in Berne, with such well-known venues as Schlachthaus Theatre, Bern Theater, Tojo Theatre, and Narrenpack Theatre Bern. With Switzerland having such a rich and diverse cultural history, it is little wonder that so many culturally inclined tourists choose to spend their holiday among the sights and sounds of Berne, Switzerland. This is an inviting community with warm and friendly people who are proud to call Berne, Switzerland home. Once you have had the opportunity to explore this wonderful city you will likely agree too that it is surely one of the rare true gems of Europe. With a map of Berne in hand you will be endlessly amazed and awe struck by all this culturally abundant area has to offer each and every visitor, young and old alike.
For those who find solace in museum tours, Berne, Switzerland has a nice cross section of excellent museums. A few examples include the Swiss Alpine Museum, the PTT, Historisches Museum, the Art Museum and Art History Center of Berne, as well as the Federal Archives of Switzerland. Berne also boasts some quite truly dramatic and artistically pleasing fountains. Any visit to Berne, Switzerland would not be complete with first seeing fountains such as Gerechtigkeits Fountain, Kreuzgassbrunnen Fountain, Lauferbrunnen Fountain, Simsonbrunnen Fountain, as well as Pfeiferbrunnen Fountain. These beautifully sculptured water works of art are stunning and often dramatic in design as well as function. In your travels be sure to visit each of these highly artistic works of art. There is nothing more enjoyable than strolling down a city lane in Berne, Switzerland and stumble across a beautiful and stately fountain. The images and impressions of Switzerland will stay with you for a long time, well after your holiday tour has ended and you have returned home.
At the heart of Berne is the city centre with a rather medieval appeal this building has the distinction of being a World Heritage Site. One of the most photographed and most well known structures in Berne is perhaps the Zyglogge. The name Zyglogge actually translates to "Time Bell" and it has its roots in the Bernese German language. The Zyglogge is a ornate and striking clock with medieval overtones. The clock includes in its make-up a display of moving puppets, as well. With so much to offer, the city of Berne is a destination that deserves serious consideration when your travel plans call for a trip to Europe. In addition to all that the city makes available, there is also a long list of breathtaking bridges, including such structures as Neubrugg bridge, Untertorbrucke bridge, Halenbrucke bridge, as well as Kornhausbrucke bridge. All these bridges are unique and each has a personality all its own. Many of the bridges can accommodate those wishing to walk across, and driving is always an option too. Berne is a special place indeed, and these wonderful bridges are just further confirmation.
Exploring further into the Berne way of life, you will no doubt want to see the many varied and dramatic places of worship located through out the city. A few examples of the attractive church architecture you will see include such places as Swiss Reformed Paulus Church, Christ Catholic Church of St.Peter and Paul, Swiss Reformed Heilliggeist Church, and the Catholic Church of Bruder Klaus. Perhaps the most well known of churches in the Berne area is Munster Cathedral. The Munster of Berne is situated in the old city and was built in 1421. The cathedral is the tallest in all of Switzerland and its tower is over 100 feet in height. With awe inspiring stained glass this is a absolute must see while in Switzerland. There has never been a better time to visit Switzerland, with all its culture and old world feel, it is a place you will always remember. Set your sights on Berne, and make travel plans, because this will be a trip you will remember for decades. Perhaps the best part of Berne is its wonderfully friendly and genuine people. You will be greeted and welcomed everywhere you go in Berne. This is the perfect time to go and explore the wonders Berne has to offer.