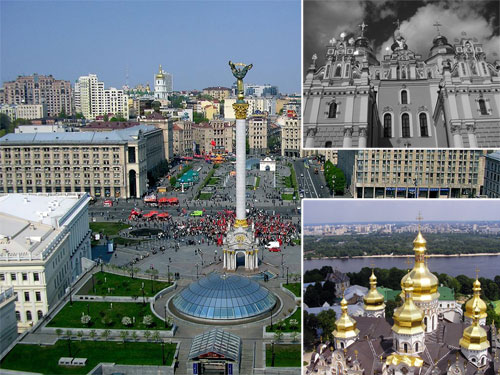 When you are planning your next travel destination, why not consider going to Kiev, Ukraine? With beautiful architecture and a rich and historical culture, Kiev may just be your new favourite vacation of all time. Kiev is the capital city of Ukraine and has a long and varied eastern European history. As you can see there, it is on the Dnieper river in the north central region of Ukraine. Kiev has a hot summer and cold winter climate. The temperatures range from 59 to 79 degrees Fahrenheit in the summer, and between 17 and 28 degrees Fahrenheit in the winter – with an average chance of unseasonably warm or cold temperatures in both seasons. Kiev is very much an urban, industrialized city with lots of highly developed infrastructure and a fairly large population (estimated to be anywhere from 2.7 to 4 million inhabitants). The Kiev visitor website also says the city is famous for its very beautiful women.
Once you get to Kiev, there are many ways to get around the city. The most unusual, and – for many, most interesting – method of transportation is the funicular. This is a cross between a subway and a train that climbs almost vertically up the right bank of the Dnieper river. Taxi service is widely available in Kiev – however, this is a private system and is not very well regulated, so fares vary widely. There are also many private citizens that use their personal vehicles to provide this service. It would be an adventure, to say the least. There is no longer a riverboat transportation system in place in Kiev, but private pleasure boats are allowed. Bus transportation is highly suspect as crime is high on these and the schedules are rarely kept to. Private minibus transportation may occasionally be off schedule but are very safe and is a much quicker method of travel. There is a large network of railways throughout Kiev that is quite efficient and easy to use.
A multitude of beautiful sites and interesting views line the streets of Kiev. It is actually said that you can walk from one end of Kiev to the other without ever having to leave the shade of its trees. There are two lovely botanical gardens as well as numerous large and small parks for you to enjoy nature in. There is an outdoor museum called the "Museum of Folk Architecture and Life of Ukraine" that offers a small historical village and many fun activities for the family. Many events and festivals are planned throughout the year, and you are able to check with the Kiev visitor website for details on times and dates. Kiev has many beautiful and historical churches to visit. One of particular note is St. Michael's Gold-Domed Monastery. As you may suspect from the name, there are some beautiful golden domes on the top of this building. You are also able to visit the Chernobyl Museum and view many fascinating and moving displays with or without hiring an English speaking guide.
Kiev has many options for places to stay during your visit. From low cost small motels to larger, more extravagant hotels, you will be able to find something to fit your needs and budget. The Opera Hotel is a five-star luxury hotel located at the crossroads of the historical and business districts of Kiev. The Opera Hotel has some very neat themed rooms, a gourmet restaurant right in the hotel, and specialized areas for the needs of business travellers. Another notable lodging choice is the Pharaon Hotel. This is a boat hotel on the Dnipro river and is located close to the centre of the city. There is a Mediterranean restaurant located in the hotel and a bar in the lobby. Arguably the most beautiful, and a personal favourite for many, is the Premier Palace Hotel. This is another five-star hotel and is located in the heart of Kiev. A very historical hotel, it was built in the late 19th/early 20th century. The architecture is simply breathtaking and an absolute must see for any tourist.
There are many places to eat in Kiev. Of course there are the standard fast food chains and eating places. Let's talk about some of the places that offer traditional Ukrainian foods first, which tend to combine fresh, pickled, and smoked ingredients. The first place of note is Shynok. This restaurant offers not only traditional Ukrainian food, but also traditional décor, furniture, and a traditional experience. The Pervak is another excellent place to get traditional Ukrainian cuisine. However, this restaurant only offers a lunch menu and it is a set menu – which means you are not able to select what you would like to eat. You are also able to find sources of excellent Italian, Georgian, Vietnamese, Chinese, and Japanese cuisine as well. Of note is Hanoi. Hanoi serves both Japanese and Vietnamese food in a lovely setting. Be prepared to pay for it, though, as Hanoi's prices are not on the low end. Kiev offers such a varied and excited travel opportunity there is no reason you shouldn't, at the very least, consider visiting there for your next vacation.