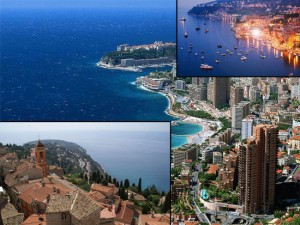 This sprawl of pebble beaches and billion-dollar houses has always captivated sun lovers and socialites. Today's admirers know not to miss the Côte d'Azur's textbook points of interest: animated St-Tropez; the Belle Époque aura of Cannes; the towns made famous by Picasso-Antibes, Vallauris, Mougins; the urban charms of Nice; and a number of spots where the per-capita population of billionaires must be among the highest on the planet: Cap d'Antibes, Villefranche-sur-Mer, and Monaco. It's up in the hills above the coast that you'll find the charm you expect from France, both in sophisticated hotels with gastronomic restaurants and in friendly mom and pop auberges (inns); the farther north you drive, the lower the prices. Of course, certain areas of the Riviera book up faster than others, but all hit overload from June to September. It's essential to book in advance; up to half a year for the summer season is not unheard of, and is, in fact, much appreciated. Festivals and good weather will also affect your chances. If you arrive without a reservation, try the tourist information centers, which can usually be of help. Smaller villages often have tiny, charming hotels or bed-and-breakfasts, which translates to fewer than 10 rooms, and which also means they fill up fast, even out of season in some places. If you're really out of luck, don't try sleeping on the beach; as romantic as it sounds, it is not tolerated and strictly controlled. Worst-case scenario is a string of cheap motels on the outskirts of most major city centers, which cost €25-€65.
Even in tiny villages some hauteur cuisine places can be as dressy as those in Monaco, if not more so, but in general, restaurants on the Côte d'Azur are quite relaxed. At lunchtime, a T-shirt and shorts are just fine in all but the fanciest places; bathing suits, however, should be kept for the beach. Night time wear is casual, too – but be aware that for after-dinner drinks, many clubs and discos draw the line at running shoes and jeans. Food plays a crucial role in the south of France, and some of the best restaurants aren't so easy to access; make sure to include taxi money in your budget to get to some of the more remote restaurants, or plan on renting a car. Try to come in truffle, lavender, or olive season. Explore the best sights, entertainment, and shopping with our top choices and insider tips. On the outskirts of "new" Vence, toward St-Jeannet is the Chapelle du Rosaire, better known to the world-at-large as the Matisse Chapel. The artist decorated the chapel with beguiling simplicity and clarity between 1947 and 1951 – the chapel was the artist's gift to nuns who had nursed him through illness. It reflects the reductivist style of the era: walls, floor, and ceiling are gleaming white, and the small stained-glass windows are cool greens and blues. "Despite its imperfections I think it is my masterpiece… the result of a lifetime devoted to the search for truth," wrote Matisse, who designed and dedicated the chapel when he was in his eighties and nearly blind.
Carved out of the rock face and one of Monte Carlo's most stunning escapes, the gardens are studded with thousands of succulents and cacti, all set along promenades and belvederes over the sea. There are rare plants from Mexico and Africa, and the hillside plot, threaded with bridges and grottoes and studded with faux boulders (actually hollow sculptures), can't be beat for coastal splendour. Prince Albert I established the gardens in the late 19th century. Also on the grounds, or actually under them, are the Grottes de l'Observatoire —spectacular grottoes and caves a-drip with stalagmites and spotlighted with fairy lights. The largest cavern is called "La Grande Salle" and looks like a Romanesque rock cathedral. Traces of Cro-Magnon civilization have been found here, so the grottoes now bear the official name of the Musée d'Anthropologie Préhistorique. The Sentier Tirepoil passes below (but unfortunately does not access) the Villa Eilenroc, designed by Charles Garnier, who created the Paris Opéra—which should give you some idea of its style. It commands the tip of the peninsula from a grand and glamorous garden. On Wednesdays from September to June, visitors are allowed to wander through the reception salons, which retain the Louis Seize-Trianon feel of the noble facade. The Winter Salon still has its 1,001 Nights ceiling mural painted by Jean Dunand, the famed art deco designer; display cases are filled with memorabilia donated by Caroline Groult-Flaubert (Antibes resident and goddaughter of the great author); and the boudoir has boiseries from the Marquis de Sévigné's Paris mansion. As you leave, be sure to detour to La Rosaerie, the rose garden of the estate – in the distance you can spot the white portico of the Château de la Cröe, another legendary villa (now reputedly owned by a syndicate of Russian billionaires). Whether or not the Eilenroc is haunted by Helene Beaumont, the rich singer who built it, or King Leopold II of Belgium, King Farouk of Egypt, Aristotle Onassis, or Greta Garbo – who all rented here – only you will be able to tell.
If you're all dressed up and have just won big, invest in a drink in the intimate walnut-and-velour Bar Le Relais, in the landmark Hôtel Negresco. The glassed-in complex of the Eden Casino houses restaurants, bars, a dance club, and a casino. In July the Nice Jazz Festival draws performers from around the world. The antiques and brocante market, by the old port, is held Tuesday through Saturday. For every sort of hat imaginable, from the basic beret to huge creations with many a flower and ostrich plume, check out La Chapellerie at their Cours Saleya boutique (there are two other shops in Nice).You have to hand it to the French, they even do second-hand fashion right. Steps away from the Hotel Negresco, Mademoiselle has quickly become the place to shop in Nice: Chanel, Dior, Louis Vuitton, Hermès – you name it – the gangs all here, at least in vintage terms. You'll find lots of luxury brand clothes, shoes, bags, and belts to rummage through, and it's all excellently priced.
Monaco, Toy Kingdom: Yes, Virginia, you can afford to visit Monte Carlo—that is, if you avoid its casinos and head for its tropical gardens. Picasso and Company: Because artists have long loved the Côte d'Azur, it's blessed with superb art museums, including the Fondation Maeght in St-Paul and the Musée Picasso in Antibes. Èze, Island in the Sky: The most perfectly perched of the coast's villages perchés, Èze has some of the most breathtaking views this side of a NASA space capsule. St-Tropez à Go-Go: Brave the world's most outlandish fishing port in high summer and soak up the scene. Just don't forget the fake tan lotion. Nice, Queen of the Riviera: With its bonbon-color palaces, blue Baie des Anges, time-stained Old Town, and Musée Matisse, this is one of France's most colorful cities. The French Riviera is famed for its grand villas and even grander gardens built by Victorian dukes, Spanish exiles, Belgian royals, and American blue bloods. Although its hothouse crescent blooms everywhere with palm and lemon trees and jungle flowers, nowhere else does it bloom so extravagantly as in Menton, famous for its temperate climes and 24-karat sun. Menton attracted a great share of wealthy hobbyists during the 1920s and 1930s, including Major Lawrence Johnston, a gentleman gardener best known for his Cotswolds wonderland, Hidcote Manor. Fair-haired and blue-eyed, this gentle American wound up buying a choice estate in the village of Gorbio – one of the loveliest of all perched seaside villages, set 10 km (6 mi) west of Menton – and spent two decades making the Serre de la Madone one of the horticultural masterpieces of the coast. He brought back exotica from his many trips to South Africa, Mexico, and China, and planted them in a series of terraces, accented by little pools, vistas, and stone steps. Although most of his creeping plumbago, pink belladonna, and night-flowering cacti are now gone, his garden has been reopened by the municipality. Car facilities are very limited but the garden can also be reached from Menton via bus No. 7 (get off at Mers et Monts stop). Back in Menton, green-thumbers will also want to visit the town's Jardin Botanique, the Val Rahmeh Botanical Garden (Av. St-Jacques 04-93-35-86-72 Closed Tues.), planted by Maybud Campbell in the 1910s, much prized by connoisseurs, bursting with rare ornamentals and subtropical plants, and adorned with water-lily pools and fountains. The tourist office can also give you directions to other gardens around Menton, including the Fontana Rosa, the Villa Maria Serena, and the Villa Les Colombières.