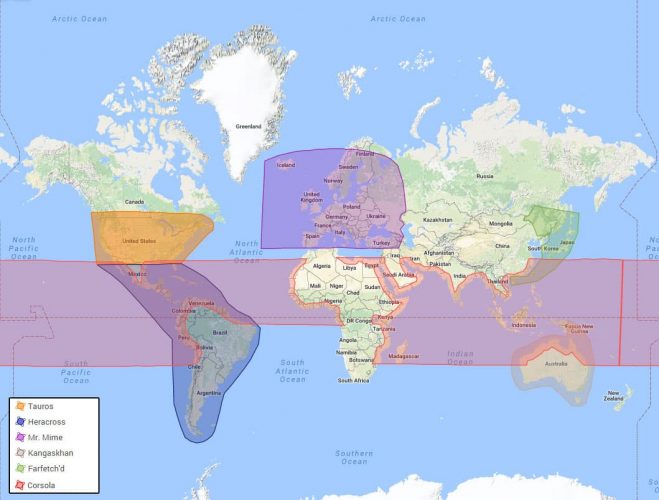 Pokemon Go has swept the world by storm. We here at Map of Europe all play the game. In pokemon Go there are pokemon that can only be found in certain regions. These are called regional exclusives and here we have a map that will help Pokemon Go traveler work out what regional exclusive is likely to be caught in the area that they are in.
The 6 regional exclusive pokemon are as follows:
Tauros – found in North America, mostly in the USA.
Heracross – Found in South America, although it can be found in southern parts of the USA like Florida.
Mr Mime – Found in Western and Central Europe.
Kangaskan – Found in Australasia, mainly in Australia.
Farfetch'd – Found in East Asia. Countries like Japan, North and South Korea.
Corsola _ This pokemon is interesting as far as we can tell it is found in a band that stretches across the whole globe. The band is roughly between between the latitudes of 31 North and 26 South.
So there you go Pokemon Trainers, get out there and catch those rare Pokemon.