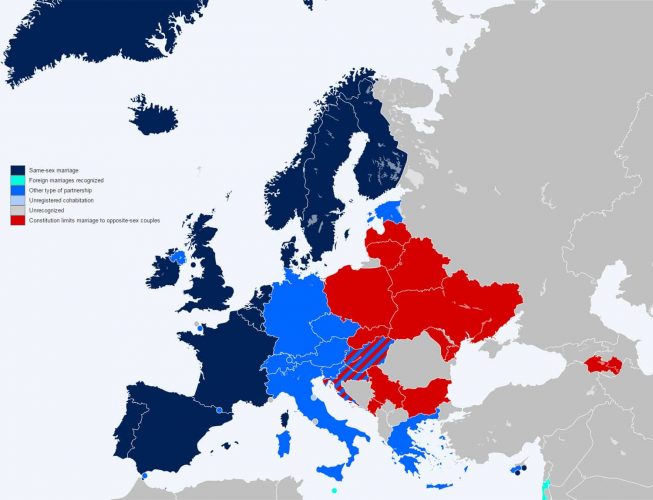 What ever your take is on same sex marriage, this map shows has an interesting insight into the views of different countries in Europe. The legend ranges from dark blue countries that are extremely tolerant of the lesbian and gay right to marriage. Through Light blue countries that are somewhat tolerant, all the way through to red countries that have varying limits of intolerance towards gay marriage.
The map does not include Russia, which is known to be officially very gay intolerant.
Below we have named the countries and the relative tolerance level towards LBG marriage:
The Tolerant Countries (dark blue):
Iceland
Sweden
Norway
Finland
England
Scotland
Ireland
Portugal
Spain
France
Belgium
Netherlands
Denmark
The Relatively Tolerant Countries (light blue):
Germany
Switzerland
Italy
Lichtenstein
Austria
Czech Republic
Slovenia
Greece
Estonia
Northern Ireland
Intolerant Countries (red)
Poland
Belarus
Latvia
Lithuania
Slovakia
Ukraine
Romania
Serbia
Bulgaria
The status of Croatia and Hungary seems t e in flux at the moment. These two countries swing between being somewhat tolerant (light blue) and intolerant (red). this is represented by red and light blue stripes.