Click on the map of Prague above to enlarge. 
Prague the cosmopolitan treasure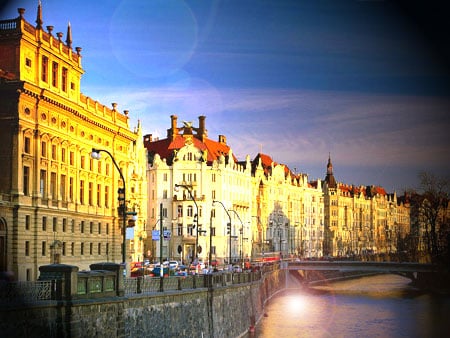 What makes Prague, which is the largest and capital city of the Czech Republic, different from other cities? Is it worth spending your holidays in or is it just an ordinary city with nothing for its visitors to experience? Although the city is popular for its temperate oceanic climate with warm summers, its chilly winters cannot be ignored. Most visitors are expected to exercise their discretion as they make their tour of the city during chilly winters or warm summers. It is impossible to dictate when all people should visit Prague. This is a city that has been in existence since the Gothic through the Renaissance and was at some point the capital of the Holy Roman Empire before the World War I.
Despite the fact that Prague has variously been a victim of war in the 20th century Europe, it never lost its cultural attractions which have arrested the attention of locals and foreigners. Each year people from all over the world come to explore some of its main attractions such as the Charles Bridge, the Jewish Quarter, the Prague Castle, Old Town Square, Petrin Hill and the Lennon Wall. If you have only read or heard about these exceptional attractions, it is high time you planned a tour for your forthcoming holidays. UNESCO does not include a historic centre such as Prague in its list for no apparent reason. Prague has all it takes to make a World Heritage Site; this is a status it earned in 1992 till today.
It is very hard to find a city that has at least ten museums in its custody. Besides, Prague has managed to keep its galleries, theatres, cinemas and other historical exhibits in a near pristine condition. Many scholars have commented that Prague is one of the few cities that value future generations and other visitors who would love to come to Prague and experience not only a change in climate but also a change in the attractions that the visitor is used to seeing in other countries. Since Prague has a rich history, it is increasingly becoming one of the most popular tourist attractions. It is estimated that Prague receives at least 4 million international visitors annually.
Did you learn in your history class that the Prague Astronomical Clock whose installation took place in 1910 is the 3rd oldest astronomical clock in the world? When you tour Prague you will be able to see it still standing tall and strong. Can you imagine that this very astronomical clock is the only one still in its proper working condition? It is reported that students, scholars, journalists and scientists travel miles and miles just to study or see this amazing clock. It is a clear testament of the ingenuity and foresight that forefathers of science were capable of despite the limited resources that they had access to.
Other most popular sites that you can explore include:
Bridges over the Vltara River
Milunic and Gehry's Dnacing House
Franz Kafka monument in the Dusni Street
Prague castle storing the Czech Crown Jewels
Gothic Old New Synagogue
Wenceslas Square
The infant Jesus of Prague
The Old Jewish Cemetery
The Museum of Decorative Arts in Prague
The Museum of the Heydrich Assassination
With these and many other tourist attraction sites, Prague still holds a prominent position among the most popular tourist destinations in Europe and the world. In Europe, it is hailed as the 6th most visited city after European cities such as Paris, London, Berlin, Madrid and Rome. It has been able to enjoy this position and reputation because it was not a serious causality of the World War II as compared to its counterparts in the region. Additionally, its architectural collections are still intact as they are varied too.
Studies indicate that some visitors come specifically to experience the fine sunny days and cool nights of summers. They do not mind the heavy rains that are characteristic of Prague's summers. On the other hand, there are those who come to enjoy the cultural diversity of Prague since this city is among Europe's top cultural centres.  Some of Prague's most popular cultural institutions include:
The Estates Theatre, which is remembered for providing venue to the premiere of Mozart's La clemenza di Tito and Don Giovanni.
The National Theatre (Narodni Divadlo)
Rudolfinum and the Municipal House, popular for Czech Philharmonic Orchestra and Prague Symphony Orchestra respectively.
People that have had a chance to explore or tour Prague can not stop talking about the city's numerous galleries, concert halls, music clubs as well as cinemas.  In fact, it has now become a popular weekend destination as a result of the recent introduction of Europe's low-cost airlines. They simply cannot afford to stay away from Prague's cuisine and beer as they travel to their favourite cultural sites or museums.