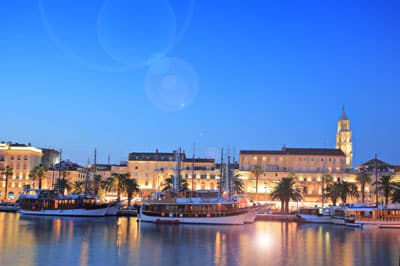 Split – Croatia's southern Capital
Many people have tried their level best explain why Croatia's second largest city is called Split. This city is located on the eastern shores of the Adriatic Sea. It has gained prominence and popularity due to its strategic location. It is a popular tourist destination links that the Apennine peninsula and Adriatic Islands. Most people are beginning to slot into their budgets plans to tour and spend their holidays in Split. They would like to see and experience for themselves what split, one of the oldest cities in the region can offer to a curious mind.
Research indicates that this ancient city derived its name from a type of shrub called spiny broom. However, when it came under the Romans, they called it Spalatum which later evolved into Split. People who claim that the word split was derived from the Latin word 'palatium' (palace) are not accurate in their assertion. Although the Diocletian Palace is a central architectural feature, it had nothing to do with the city's naming. Some of these controversies are igniting people's curiosity to want to explore every nook of Split in order to ascertain the truth.
They do not want to merely sit back and wait for people to come up with their own versions of stories and fabrications. Perhaps you have only seen the Diocletian's Palace in photos but you have never seen it at close quarters. If you choose to make a tour at Split, you will no doubt be able to touch, feel and experience the culture and many other older buildings in this ancient city. It is reported that historic sites at Split entered the UNESCO World Heritage Sites way back in 1979. Since then it has remained one of Croatia's main centres of culture. When you travel across the city, you will not fail to catch a glimpse of the Cathedral of Saint Dominus as well as the statue of bishop Gregory of Nin.
Split is also known for its amazing galleries and museums such as:
The Archaeological Museum
The Solin Museum
The Narona Collections
The Issa Collections
The Split Archaeological Museum
You will particularly love the Split Archaeological Museum, the oldest museum in Croatia. It is estimated that this museum has over 100,000 artefacts which date from the prehistoric era, Greek era, early Christian era. Below is a list of the most popular artefacts at:
a). The Split Archaeological Museum
Ancient clay lamps
Bone and metal articles
Gems collections
Collections of stone inscriptions from Salona
Ceramic objects
Roman glass
Collection of Ancient coins
Collection of Medieval coins
Collection of submarine collection
A well equipped archive library
b). The Split City of Croatian Archaeological Monuments
Weapons
Domestic items
Jewellery
Stone artefacts of the old Croatian church
Clay figurines
Early mediaeval wicker
Old Croatian Latin epigraphic
c). The Croatia Maritime Museum
collection of ship models
collection of navigation equipment
collection of weapons
collection of uniforms and equipment
collection of marine equipment and supplies
Collection of medals.
Naval and maritime history
The history of the Slavs
These museums' eclectic collection of artefacts mirrors the rich culture as well as artistic expressions of Croats. It will be prudent to start saving right now so that you can explore these museums and galleries.  When you leave Split, your life will never be the same again. It does not matter whether you are a student, scholar, journalist or a mere tourist. Doors and arms of Split and its people are wide open to people of all walks of life. You are guaranteed an experience of a lifetime which will remain in your mental diary for a long time. Did you know that the Split City Museum houses the Emanuel Vidovic Gallery? This special gallery was initiated in honour of a special painter of Split in the 20th century.
As you finalize your holidays, you could also take time see Split's galleries such as
The Gallery of Fine Arts which displays various sculptures and paintings of famous Croatian artists.
The Ivan Mestrovic Gallery which displays different drawings, architecture, design, sculpture and furniture.
Split has a history and reputation for music and it has one the most influential musicians and their music.
Finally, summers are usually busy with cultural activities during the Split Musical Festival. These festivals are usually followed closely by the Split Summer Theatre Festivals which brings together different people within Split to showcase their talent. Some of these annual festivals have produced amazing talents (such as Josip Hatze, Zdenko Runjik, Daleka Obala, Jelena Rozga and many more) for the country and the world. Split is evidently not a slouch in sports because of the conspicuous presence of the Poljud Stadium and Spaladium Arena. Some more information on Split at Wikipedia.