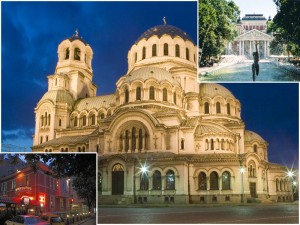 As the capital of Bulgaria, Sofia is a city with a population of well over one million residents. Situated in the western reaches of Bulgaria, Sofia is a city well worth the travel time to get there – you will marvel at its beauty. The city sits comfortably at the base of Mount Vitosha, and is a sightseeing treasure for anyone who enjoys adventure. Sofia is a culturally rich and diverse area with everything from ancient monuments to cutting edge high tech companies. It also happens to be the biggest city in the country of Bulgaria. Prepare to be amazed by the architecture as well as the extraordinarily friendly people that make Sofia their home. The city has a multitude of parks and greenbelts as well as many wonderful gardens. The parks and gardens come alive in the summer, with lush green landscape and lovely flowers blooming. The streets bustle with shop owners and intrigued tourists. The city gives you a warm and inviting sense of relaxing pleasure. Sofia, Bulgaria is a unique and special city in so many ways.
Sights of Sofia
The parks are especially wonderful and should not be missed. Borisova Gradina is one such park tucked away in the center of town. Culturally, Sofia is well represented, with such sites as the National Opera and Ballet. This wonderful venue is actually a combination ballet and opera house. In terms of the arts, the National Gallery of foreign Art is a must see while visiting Sofia. Yet another well-known art center is the National Art Gallery. Any one of these institutions will have you delighting in the arts for days on end. Sofia also is home to a number of international culture centers such as, the French Cultural Institute, the Italian Cultural Institute, the Russian Cultural Institute, and the Hungarian Cultural Institute, to name but a few. Sofia has so much to offer that it is hard to imagine seeing it all in a few days. One should think in terms of weeks when planning a visit to Bulgaria's capital city. The sites and sounds of Sofia will keep you inspired and in awe as you see so much history in a city this size.
Getting around is quite easy and the abundance of public transportation makes sightseeing an easy task. Road and Rail are easily accessible and well organized. With over a half dozen different train stations, easy access to train service is assured. The largest of the stations is the Central Railway Station. The Sofia Airport is modern and centrally located. The city is also abuzz with a number of public transportation options. These include trolley busses, regular busses and trams. The main train service is the Sofia Metro with over a dozen stations citywide. Regardless of if you have your sights on the ancient monuments, the museums, the cultural centers or the lush parks, the city of Sofia is very easy to navigate. You will feel right at home in this pleasant and inviting place. And likely find yourself wanting to return for a second visit. If you are looking for opportunities to learn about history and art, this city can help you do just that – as it is rich in both.
Rail map of Sofia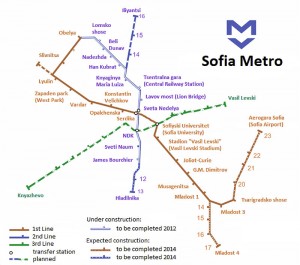 Sofia has produced some very well known names in the past, including Alexis Weissenberg (a well know and accomplished pianist), Evgenia Radanova (the world renowned ice skater), the gold and silver medallist in ice dancing, Albena Denkova, and Maria Gigova, a world champion gymnast. All these names and more are just one small reminder of how diverse and talented the people of Bulgaria really are. Beyond talented, the genuine people of this country are always eager to assist a friend or a neighbour. You can't help but feel the friendly air of the city as you stroll through town. It is a place one could easily call home. It makes you that comfortable, and puts you immediately at ease to enjoy all that Sofia has to offer. Making travel plans to visit Sofia is one of the best options for an extended holiday. With easy access via airport, rail or road, there is every reason to visit Sofia, and little reason not to visit. Walking off the airplane, you will immediately sense that you have arrived in a gentle peaceful city.
With over a dozen colleges and universities, Sofia is no stranger to higher education. A diverse list of higher education institutions includes such names as Rakovski Defence and Staff College, Saint Clement of Ohrid University of Sofia, New Bulgarian University, Bulgarian Academy of Sciences, National Academy of Arts, and the Technical University of Sofia. These schools are a testament to the great diversity that comprises the city of Sofia. In terms of sports, the Bulgarian Volleyball Federation is just one of the better-known sports represented in Bulgaria. With several large stadiums such as the Vasil Levski National Stadium and the Armeets Arena, there are plenty of sports always on tap in Sofia. When the time to plan a truly wonderful and meaningful holiday or vacation arrives, consider the delightfully exciting and rich city of Sofia. Once you have had a chance to know Sofia and all her charm, you will be compelled to return again and again. Sofia, Bulgaria is a city with few rivals, and now is a great to visit.