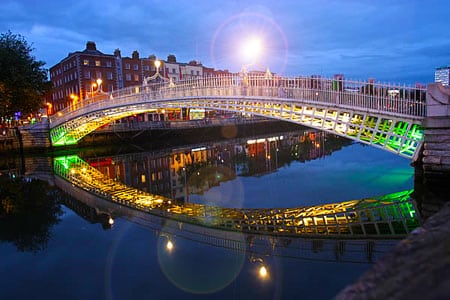 Who coined the name Dublin in reference to the capital of Ireland? There numerous explanations that have been offered but none has been able to reveal the person that chose to call this city Dublin, as it is known today. Some people claim that the name Dublin was a derivative from two Irish words Dubh Linn which when translated mean "black pool". A drive through history reveals that Dublin has undergone a series of evolution which resulted from the various occupants that infiltrated into this city. When you travel to Dublin, you will discover that the city is divided into the Northside and Southside by River Liffey. The other feature that will immediately hit your site is a low mountain range which has flat farmland adjacent to it. A visitor who is new to the people and culture of the two sides of Dublin might not discover the cultural and class differences that have been created by this river.
Nevertheless, this should not concern you unless you have come to Dublin to specifically study its people and their culture. Some people have made Dublin their frequent tourist destination every year because it not only has cool summers but also mild winters. You might not experience temperature extremes which are typical of other cities. The other thing that you will discover is that Dublin experiences uniform rainfall distribution throughout the years. Although it has punctuations of the wettest months and driest months of the year, tourists have chosen to make accurate timings of their favorite season. An interval of snow that occurs sometimes has not affected people who would love to tour and explore Dublin as infinitely as possible. Some of them have been so determined to brace any change in weather until they finish their holidays.
Dublin is unique in terms of its structure, organization, culture and attractions. These are features that make it distinct and one of people's most favorite tourist destinations. It has various places of interest such as:
The statue of Jim Larkin
The Spire of Dublin
The Dublin Castle
The Molly Malone statue
Books of Kells
The Ha'penny Bridge
The Anna Livia monument
The Mansion House
Christ Church Cathedral
Molly Malone statue
Mount Joy Square
St Patrick's Cathedral
The Poolbeg Towers
St Francis Xavier Church
All these are vital buildings and structures with exceptional architectural designs. Most visitors come with their cameras in order to ensure that every memorable experience is captured as clearly and accurately as possible.
Studies indicate that Dublin has the greenest parks in Europe and are well worth your while to explore them and enjoy their beauty and elegance. The most popular parks are:
St Stephen's Green
The phoenix Park
Herbert Park
St Anne's Park
These parks are well maintained and some them are walled and with tree-lined avenues. Besides, they are fully covered to ensure that residents and visitors can spend their holidays in a serene, clean and relaxing atmosphere.
If you want to travel within and without Dublin, you need not worry because Dublin has a well developed transport system that ranges from road, rail to air transport. In case you find cycling suitable for you, you can still do so without any restriction or coercion. The city's road network comprises the M50 motorway which links vital primary routes with other parts of the country. This makes it possible for any visitor on tour to reach his/her destination without interruption or inconvenience. This motorway is also supplemented by the M1 motorway and the inner orbital route. There are over 150 bus routes that access every part of the city as well as its suburbs and fares are based on the distance covered
Though some people consider rail transport slower, it can also serve you well in Dublin. Remember that to travel on the train, issues to do with traffic jam can not arise and this implies that you can very easily predict when you expect to arrive at your chosen destination. You will be expected to operate between Connolly Stations and Heuston stations, the major railway stations in Dublin. Dublin Airport serves people within as well as out of Dublin and it is the busiest airport in Ireland. It offers a wide range of services such as domestic services top other airports in Ireland. The long haul services, on the other hand, are offered to countries such as Canada, Middle East and the United States
A number of visitors might feel that their tour and holidays can not be complete without taking a ride on their bikes. Dublin is well aware that this category of people exists and Dublinbikes for this purpose. These are unisex bicycles whose use is based on a self-service bicycle rental scheme.