Stockholm – winter style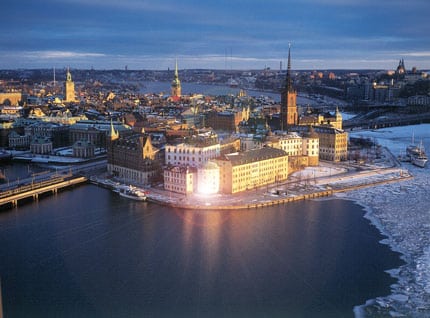 Stockholm is Sweden's largest and capital city. It is also considered to be one of Sweden's most important cultural, economic, media and political centers and its strategic location makes it open to visitors from all over the world. In case you are looking for a city where you can spend all your holidays, you need to consider Stockholm. People across the globe are dreaming to have an experience of their life just to arrive in this town and tour every corner of it. Probably you have had a very busy schedule in your office or back home and you would like to get some fresh air and an opportunity to get your mind off your job and other responsibilities. Stockholm should be your next tourist destination.
After you explore its 14 islands, you may never stop talking about Stockholm. You could find yourself wanting to come back over and over again. It is reported that people who travel to Stockholm cannot help dreaming about the city and its numerous attractions that it can offer. You may not be able to explore all its gorgeous buildings and architecture as well as parks in one holiday. Some couples usually decide to make it a honeymoon destination and it has worked perfectly well for them. Whenever their time to go back comes, they wish they would turn back the clock. No wonder this city has acquired a new name "Venice of the North" in order to mirror its beauty and splendor.
When you arrive in Stockholm, your eyes quickly meet a beautiful landscape surrounded by water. The parks and other green patches are both splendid and inviting as if they are telling you that they have waited for you all their life. Although Stockholm is located between the oceanic and humid continental zones, its weather is much milder than that of other cities at the same latitude. This implies that if you are a visitor, you do not have to worry about your new experience here. Your tour will just be fine in spite of relatively longer days around midsummer.
The other good thing about Stockholm is that it has warm summers generally while autumn and spring are usually cool or mild. The only major challenge is that winters are cold and could sometimes tend to be snowy.  It is important to keep track of these seasons so that you are in a position to select your favorite season for your holidays. Do not just walk in blindly. In case you are not quite sure of which months are appropriate for you to have optimal experience, you might consider calling. This should happen prior to the tour. You may also choose to use the internet. Nowadays almost everything is online and this means that information is simply a click of the mouse away.
Such preparation is useful as it will enable you to focus on the holiday and not discomforts of weather or climate. If you are able to make the best out of your holidays, it is highly likely that you will want to come back and perhaps bring a friend or family with you. Choose carefully so that you can explore Stockholm's various attraction sites such as:
a). Cultural sites
The Royal Place Drottningholm
The Skogskyrkogarden (The Woodland Cemetery)
b). Literature of authors such as
c). Architecture
The Tyska kyrkan (the large German church)
Palaces and mansions
The Bonde Palace
The Oxennstierna Palace
The Riddarhuset (the House of Nobility)
The Tessin Palace
Stockholm Palace
The Episcopal seat of the Bishop of Stockholm
Storkyrkan Cathedral
the Riddarholmskyrkan, the oldest building in stockholm
d). Museums
The National Museum
The Museum of Modern Art
The Nordic museum
Stockholm City Museum
Royal Coin Cabinet
The Vasa Museum
e). Art galleries
Andréhn-Schiptjenko
Nordenhake
Brändström & Stene
Galleri Magnus Karlsson
The list can go and on but what you need to note is that Stockholm is rich in cultural and architectural attractions that will make your stay here a memorable experience. Each gallery, museum, architecture, cultural site and literature brings to the table its unique set of collections that are worth your attention. They may provide you lesions or ideas that could be useful in your life. Sometimes life takes us through a series of experiences in order to lead us towards the right button. Once you press it, then doors of opportunities begin to open. Therefore as you explore, experience and tour Stockholm, treat every collection with the seriousness it deserves. Do not take anything for granted!