Virgin America review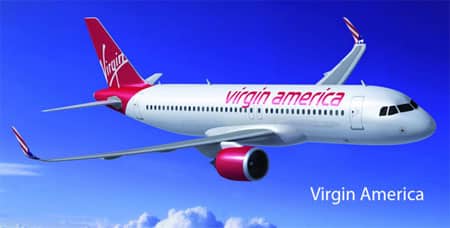 Virgin America is one of the many companies that are underneath Richard Branson's Virgin Brand. It is not the same airline as Virgin Atlantic, although you can expect the same level of service as this. The law states that no more than 25% of an American Airline can be held by a foreign investor, therefore the Virgin group only holds at 25% share in the company. It's current base is in San Francisco Airport, with only one focus city which is located at Los Angeles International Airport.
It was in early 2004 that the first idea of this company began to surface, it's first name was 'Virgin USA' although it was later changed to the current one. Flights were scheduled to begin in 2005, but there was a lack of interest from investors due to the risk of starting up a new airline, the launch date eventually became 2006. Tickets went on sale in 2007 with the first flight being on August 8th 2007 from New York to Los Angeles.
Virgin America currently flies to thirteen different locations in the United States. This includes popular destinations such as Orlando Airport & Chicago O'Hare Airport. It did offer services to Canada, but these flights were discontinued due to lack of demand from people. There are currently three destinations within Mexico for Virgin America Customers to travel too. The Airline intends to have around thirty destinations on offer by 2016, and they do look set to meet this target.
The inside of Virgin America cabins are absolutely top notch, they offer mood lighting which is supposed to provide a more relaxing atmosphere for their customers. In addition to this there is a selection of inflight entertainment on every flight that they operate. Unlike other airlines they also offer a duel-class system, this includes first class and main cabin. This makes the airline ideal for business users who tend to opt for airlines which offer a higher level of service. You will have to pay for some of the inflight entertainment if you sit in the main cabin, First Class users get all of these services for free when they fly. The main cabin is separated into two ticket prices. Meals and in-flight entertainment are free on 'Main Cabin Select', whereas of course you will have to pay with the basic ticket price, although the prices are not too extortionate, unlike other airlines.
There are currently 51 aircraft in the Virgin America fleet, although they have a further 60 on order which will start to be delivered in 2013. This of course shows how much faith the company is placing on rapidly expanding. Despite it being a new company in a rather volatile market it does seem to be going places, and if you excuse the pun, the only way is up.
Virgin America may not have has many destinations as other American Airlines, but they do offer a good service and you can get some fantastic prices on their seats, if you know where to look that is. There are plenty of websites out there that can help you achieve good deals on Virgin America flights.