Spirit Airlines North and South America
Spirit Airlines are one of the cheapest airlines within the United States of America. The company currently bases its operations in Dallas, Detroit, Fort Lauderdale, Las Vegas and Chicago, which means it services some of the most popular destinations in the United States at a very low cost.
Spirit Airlines was formed in 1980 as Charter One, it originally offered charter tours from Michigan to popular destinations including the Bahamas and Las Vegas. It was in 1990 that it started to offer a scheduled service. In May 2992 it purchased its own jets and got the name of Spirit Airlines. In April 1993 further destinations were added including a scheduled service to Florida.
In March 2007 the company decided to change their business model. They planned to become the first ultra-cost airline in America. The ticket prices were planned to be cheap but extras would need to be added onto the flight, for example purchasing bag space and your drinks on the flight. Business card was also removed during this, although an upgrade of your seat could be purchased in the location that seats originally existed. This model followed the already successful business model established by Irish carrier 'Ryan Air'. Advertising can also be found on the planes in order to earn a bit of extra money for the company.
There are over 40 destinations serviced by Spirit Airlines. These are spread throughout Central America, North America, Mexico and the United States. Popular destinations include El Salvador, Costa Rica, Bermuda, Florida and Illinois. It is worth checking the Spirit Airlines schedule to check their destinations as huge savings can be made when you fly with them. There are currently 40 aircraft in Spirit Airlines Fleet that service all of these destinations, their aircraft are some of the youngest in the industry with an average age of just over 4 years old. They have over one hundred aircraft currently on order with Air Bus, delivery of these aircraft is scheduled to take place between 2011 and 2015.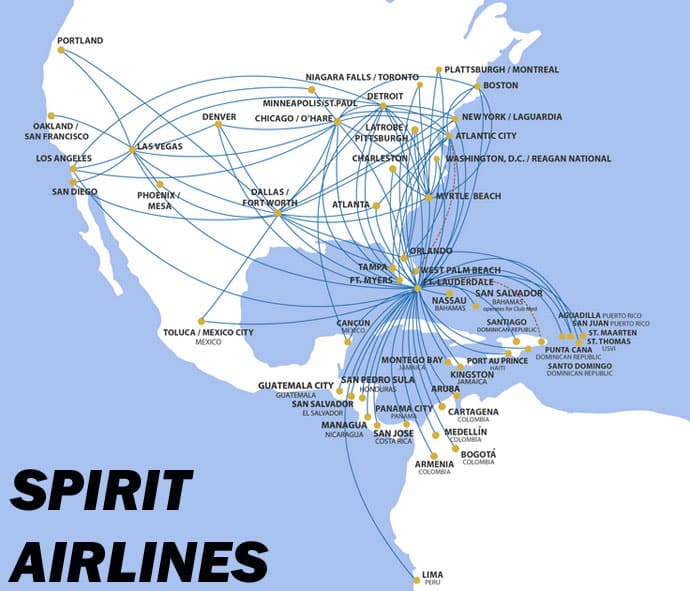 Spirit Airlines offer its own frequent flier program called 'Free Spirit', you do have to pay a yearly membership rate to be a part of this club. There are three membership levels depending on how often you fly.
There are two seat types of the flight, although they are not their own individual classes. You can purchase an upgrade on your seat either before the flight or on board. Seat legroom ranges from 28-31" in the smaller seats up to 36 or 37 inches in the upgraded seats. It does depend on what aircraft you fly on however.
If you are looking for a cheap no frills airline then Spirit Airlines is the one to go for. They pride themselves on their ultra-low cost, and therefore is one of the cheapest ways to travel throughout the country. You will really be amazed at the savings you can make by flying with this company.