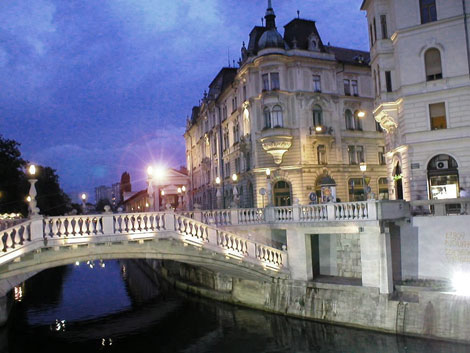 The beauty of Ljubljana in Slovenia is that it can be enjoyed at a fairly relaxed place. There are no large attractions trying to pull you in. Due to this many tourists seem to give this beautiful city a sip. Of course, you are smart and you know that Ljubljana can be a fantastic holiday destination. Let's take a look at how we can get here, as well as what there is to see and do once in the city.
The easiest way to get to Ljubljana is by plane if you are located a great distance from Slovenia. Many operators should offer flights directly to Brnik Airport from all major airports around the world. From here it is just a short 27km bus ride to Ljubljana which is where your holiday will begin. Here is a map of Ljubljana.
If you really want to sample the best of the city I suggest taking a tour. Tours run three times a day and depart from the Tourist Information Office. At the time of writing the tours are at 10am, 2pm and 5pm. I suggest taking the later tour in the evening if it's the middle of winter. The city looks absolutely fabulous when it is lit up at night. From the tourist information office you will be able to pick up a free map of the area, many people wish to tackle the city alone and this is the best way to do it.
You should be able to get around most of the city on foot. Many people also choose to rent bicycles. There is a bus system in place for those slightly longer journeys, it is a cheap system though and shouldn't be ruled out totally.
One of the most popular sights in the city is the 'Triple Bridge'. I suggest taking a look in the evening when it is all light up. As the name suggests, it is just three bridges located next door to each other.
Close by is the Old Town, this is packed full of beautiful medieval buildings. Many designer clothing shops can be found here as well as some fantastic places to eat. I suggest grabbing your camera as the small alleys really are a sight to behold.
For fantastic views of the city head to Ljubljana Castle where you can take pictures from up high. It is also a pretty exciting place to explore in its own right.
Metelkova City is a part of the city that is also great to explore. It's full of bars and nightclubs, although of course due to this it can be very crowded at the weekends.
If you have children then head to Ljubljana Zoo, you will need to take a bus to get here but it does fill up a whole day with fun.
There is a free tour that runs through the city as well. It begins at 11am on the stairs of the Franciscan Church most days of the week, sometimes extra times are added so it is worth checking that out.
There are a lot of museums to also explore within the city, too many to mention here. Particular highlights include the museum of modern art and the national gallery.
If you are looking for a holiday that is a bit different from the norm then I suggest paying Ljubljana a visit. You can either tackle the town yourself or take a tour around the landmarks of the city, whatever option you choose you will end up with a fantastic holiday in Slovenia and it will be yet another destination to tick off your 'must visit places'.