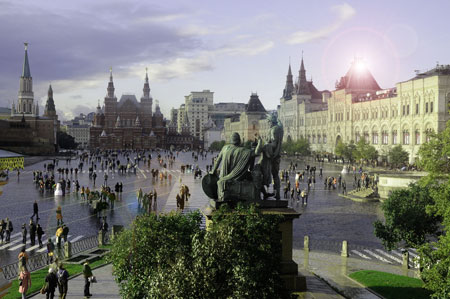 Moscow is known for its exotic beauty as well as number of attractions that are characteristic to Russia. As the capital of Russia, Moscow remains to be a hotspot for many tourists due to the presence of cultural sites, historical monuments, ports and museums that tourists come to explore while on holidays. As a matter of fact, the evenings in Moscow are nothing short of a memorable experience for those visitors who tour this city. A family vacation in Russia is will be incomplete without going through the history of this nation that is majestically showcased at the Tretyakov gallery in Moscow. Most of the visitors tour this gallery which is known for the country's rich cultural heritage. There are numerous other attractions that Russia has to offer among them national parks, lakes as well as gardens. In fact, Russia's Lake Baikal is one of the top most tourist spots and has consequently been ranked among the world's natural wonders. Besides, it is also the among the world's largest fresh water lakes. This lake is a haven for bird waters as it hosts various species of migratory birds each year. Another Russian tourist attraction is the Volga river that is also the largest if its kind in the whole of Europe.
Besides Moscow, visitors coming to Russia could also visit other popular Russian cities like the Golden Ring and Vladivostok. The city of Moscow hosts a number of prehistoric buildings, administrative offices, art galleries, parks and theaters. Some of the sights that tourists in Moscow explore include Kremlin, the Red square, the St. Basil cathedral, Cathedral of Christ the savior, Novodevichy convent, Poklonnaya mountain, Arbat, Kitai-Gorod, Europe square, Moscow university, Kuskovo estate, ostankino estate, arkhangelskoye among others.
Moscow is thus a great destination for tourists. Those intending to visit are usually advised to ensure proper planning of their holidays so that they have time to explore the vast attractions. This is because the city offers an experience that will remain on your memory for a long time. In fact, it is believed that people who find pleasure in exploring new places cannot resist Moscow. Among the notable places in Moscow include Kremlin that offers world class standards as it is also central to the Russian Government. Hence some of the notable structures that make up the Kremlin include government buildings, cathedrals, a beautiful palace and museums.
Another of Moscow's popular places is the Red Square which is also close to Kremlin. The Red Square has a distinct feature that is St. Basil's Cathedral that is painted in bright colors. Also worth visiting in Moscow is the Resurrection Gate especially those people who are on vacation. On the other hand for individuals whose interest is in theatre then they can consider visiting the famous Bolshoi theatre, one of the largest in Russia. Visitors who travel to Moscow are usually allowed in for shows as long as they have booked tickets before the shows. However, as expected, the tickets issued to tourists cost more than those sold to locals. As such it is better to make an online booking for your ticket. Moscow also has awesome market places that tourists who like shopping can also take advantage of as long as finances allow. Old Arbat is one among the many shopping places, that is characteristically busy hence you can be sure of finding crowds even though the experience is worthwhile. There is also a famous museum in Old Arbat.
Some of the interesting facts that visitors need to know is the fact that most of the buildings in Moscow were built in the same way so you need not be surprised when you come across buildings that are similar. A perfect example is the two blocks of flats as well as the two administrative buildings at the Moscow State University. This is besides a number of hotels and many other buildings that are similar to each other. Also worth noting is the fact that Moscow ranked among Europe's most populated cities despite not being big like Paris, London or even Istanbul. Moreover, it is known to accommodate tourist of all sorts including those who intend to go on vacation with their friends and families. There are numerous hotels to accommodate all kinds of tourists and visitors ranging from the business visitors and those that are visiting purely for pleasure. In order to be safe and for ease of settling in upon arrival, you may make reservations prior to your visit at rates that are discounted. The reservations are usually done for the various levels of hotels ranging from the tourist class to the five star hotels that are luxurious. This can simply be done online and highly recommended especially during high season when almost all the places are usually booked.