Sun Country Airlines is the trading name of MN Airlines. They are based in Minneapolis. They offer budget flights within the United States as well as destinations further afield such as the United Kingdom. Their main hub is at Minneapolis-Saint Paul International Airport and have three focus cities; Dallas International Airport, Capital Region International Airport and Cancun International Airport. They did file for bankruptcy in 2008 but is still offering regular passenger service as of 2012.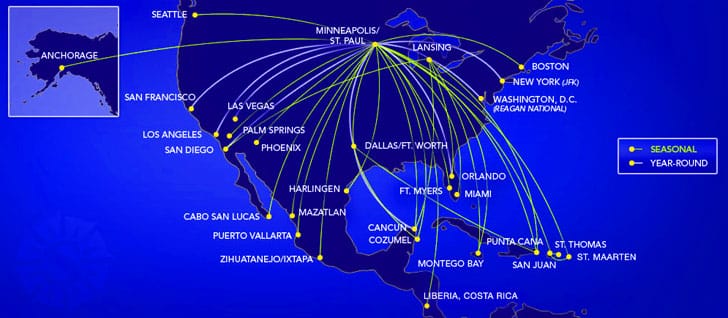 After rapid expansion the company entered bankruptcy in 2001, during this time it lost nearly all of its 727 aircraft as well as other aircraft models, it did however retain its operating certificate. Sun Country Airlines emerged from the ashes of its bankruptcy soon after and began rebuilding its fleet albeit at a slower pace than before. In 2008 it started having a bit of trouble, many of the summer schedule was cancelled with pilots being placed on leave. In 2009 it made a small profit of $1,000,000 and started to repay its loans.
Sun Country Airlines fly to over 32 destinations worldwide. This includes service of London Gatwick Airport, which is located around 25 miles outside of London. Other destinations can be found in the Caribbean where they fly to countries such as Jamaica, Costa Rica and Puerto Rico. Many of their destinations are seasonal destinations and only 11 of their destinations are serviced year round. Internal flights take you to states such as Alaska, California, New York and Nevada.
The company currently have 14 aircraft in their fleet, a far cry from their rapid expansion heyday, although they do plan on adding numerous aircraft in the future to service a number of new destinations.
Food and beverages on board are not included in the ticket price. No matter where you fly you will have to purchase some of the things that you consume. This of course accounts for why the ticket prices on some of their flights are incredibly cheap. First Class and Economy are included on every flight, which of course makes it ideal for business users.
Sun Country Airlines also have a fairly good reward program. It is known as the 'Sun Country VIP Club'. You can get some extra cheap deals when you are a member of this program and can get much cheaper ticket prices than any other airlines for the destinations that they travel to.
Sun Country Airlines also offer Sun Country Airlines in order to increase their chances of making money. You can buy your hotels, transport and any other things in a single transaction, which can of course put savings in the customers pocket as well as earning Sun Country Airlines a bit of extra money.  In the future you will also be able to book hertz car rental in the same transaction.
If you are looking for cheap flights to overseas destinations then you should look no further than making a booking through Sun Country Airlines, particularly if you want to fly to England. You should be able to find cheap tickets on the internet.