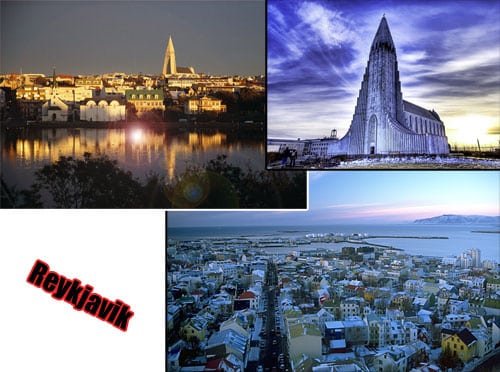 Reykjavik is the capital city of Iceland. For this very reason many people travel to this place every year from all over the world. The city is vast but many of the tourist opportunities can be found in one central location. You will be amazed at the beauty of the rather modern houses, you really will experience the Scandinavian way of life when you visit.
Travel to Reykjavik is fairly simple, although for a large capital city the airport is located quite a way out of town. You will be looking for flights that head to Keflavik International Airport, this is around 50km from the city. You should be able to grab a bus to the city from here. The bus ride will take around 45 minutes and takes you to the city centre.
Once in Reykjavik you will most likely want to stay within the city centre where most hotels are located, you should be able to tackle everything on foot. Although if you want to head slightly further away and travel to different places then the bus system is fairly reliable. You can also hire a car, although if you are not heading outside of Reykjavik this isn't a necessity. It is vital if you want to visit other places in Iceland during your stay however.
The buildings of the city are very colourful due to the lack of planning that has gone into them. Many of the buildings are actually fairly old structures that have been covered by coloured sheet metal. The houses of people actually make a rather wonderful tourist attraction. There are a number of highlights however. The first is the Alþingi which is the government building or the old one at least. I suggest checking this out, although tours at this time are not possible. Don't forget to make space to visit the Cathedral and the City Hall, both are architectural wonders in their own right. I suggest heading the Perlan. This place is a viewing platform that offers delightful views over the city. At certain times of the year you may also find 'The Peace Tower' turned on. This tower was created by Yoko Ono as a lasting tribute to John Lennon.
There are many museums throughout the city suiting nearly every interest. One particular highlight is the national museum of Iceland. I also suggest paying a visit to the Reykjavik Museum of Photography for a slightly different experience.
Boats regularly leave from the city to take you on Whale Watching tours, this is an experience you will not be able to find in most other countries in the world. This is the top of the list of 'must do' whilst in the city. There is also a zoo to visit if you have a number of young children that you wish to keep entertained.
You shouldn't be short of places to eat or drink, Reykjavik is full of them and there won't be far to travel to reach either from your hotel.
Reykjavik in Iceland may not be top of the list for most people to travel to in their lifetimes. Those that do however get to experience how unique and beautiful this city is. Many return time and time and again to take in all the wonders.