Here at MapofEurope.com love educating our users and one of our favorite topics is history. In this Brand new education category we will endeavor to make learning as fun as possible. Without further adieu here is a inaugural educational article.
The Ten Oldest continuously inhabited cities in Europe are :
1) Athens:
map of ancients monuments Athens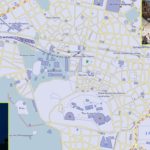 The Greeks feature quite heavily in this list of ancient towns, no wonder they are considered the cradle of civilization. Athens begins its recorded history at around 1400 BC and was continuously inhabited since approximately 11,000 BC.  The Mycenaean culture dominated Athens from about 1900 BC to about 1100 BC. The other big cultural movement and probably the one that had the greatest lasting affect on the history of Europe was the Hellenistic era. It lasted from about 325 BC to the foundation of the Roman republic in 146 BC.
2) Argos:
map of ancient monuments Argos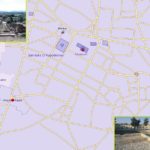 Another Greek city that has stood the test of time. Argos is second only to Athens age.  Neolithic remains where found there dating back to 7000 BC. However continuous habitation probably begun around 5000 BC, the same as Athens. The king of Argos (Diomedes) featured heavily in the Homeric epic of the "Trojan War".
3) Plovdiv : The earliest evidence of habitation for Plovdiv dates back to 6000 BC. Originally a Thracian city in modern day Bulgaria. It has been continually settled since approximately 4000 BC. After the Thracian empire faltered, it was governed by the Greeks and then Romans right almost up until the dark ages. other later empires have ruled Plovdiv including The Byzantines, Bulgarians, Ottmans and Russians.
4) Kutaisi : Originally known as Aia and was the capital city of Colchis empire which is in modern day Georgia. In Greek mythology it is believed that Jason and the Argonauts found the golden fleece here or in the nearby region.  So it's origins, date back possibly to  3000 BC and it is known to have been continuously inhabited since 2000 BC.
5) Chania : Once again we have a city in Greece. However this one is on the island of Crete. Crete is an  archaeological and historical honey hole. Founded by the Minoans it has been continuously inhabited since 1400 BC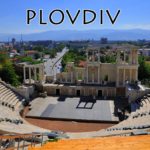 6) Larnaca : Yet another city founded by the Mycenaeans. Currently Larnaca is third largest city on Cyprus and is situated to South east on a map of Cyprus. Later on it became a Phoenician colony and has been continuously settled since 1400 BC.
7) Thebes : Often this city is confused with the Egyptian city of Thebes  which was established around 3500 BC and is much older than the Greek city of Thebes (Thiva in Greek)  which has been continuously inhabited since approximately 1400 BC. It was originally inhabited by the Mycenaeans, the race of people who first spread the Ancient Greece.
8) Trikala : Another Mycenaean colony founded in region of Thessaly in central Ancient Greece. It was established next to the primary water course, the River Litheon. Whilst records show it was only continuously inhabited since about 1200 BC. The surrounding regions have evidence of neolithic habitation dating back to 49,000 BC and other settlements in the region date back to 6000 BC.
9) Chalcis : This town is mentioned by Homer as one of the towns that the Aetolians who were led by Thoas inhabited. Another Greek city that is situated to the South East of the Greek mainland. The town started approximately 1200 BC and carries on to this day.
10) Lisbon : The capital of Portugal to this day and was founded at around 1200 BC and has had a population that has maintained a level above 100,000 people since 900 AD. The land in and around Lisbon are littered with neolithic funerary monuments, megaliths, dolmens and menhirs. So there is evidence of habotation going back to at least the neolithic period, sometimes also known as the pre-celtic period.
We hope you have enjoyed the first of our series of education articles. If you have any suggestions or recommendations for future articles please contact us through our contact page here.